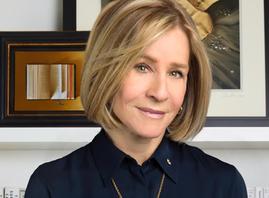 Heather Reisman
Heather Reisman, founder of Canadian retailer Indigo Books & Music, who gave up the position of CEO last year, is returning as CEO following the sudden resignation earlier this month of Peter Ruis. Other major executive changes announced by Indigo include the appointment of Craig Loudon, Indigo's CFO, as COO, though he continues as CFO. Indigo has also appointed former Penguin Random House CEO Markus Dohle chair of the board of directors; he had joined the board as a director in June. Eileen Naughton has been added to board, along with Reisman.
"There is a clear path for Indigo to regain its momentum," said Reisman. "I love this company and its mission. Even more, I care deeply about our people, who have given so much to build this incredible company over more than two and a half decades. I know that together we will return Indigo to growth and profitability. I'm thrilled for both Indigo and for Craig Loudon about his promotion to COO. Craig has not only the institutional knowledge and experience to support me and our entire team in his new role, he has also been a trusted partner for our employees, our suppliers and our shareholders for a long time."
Dohle commented: "We are incredibly grateful that Heather has agreed to return to the helm of Indigo and as a member of the board, and that Craig has agreed to take on the key role of COO. More than ever, Heather's unique experience is needed as we work to bring Indigo back to profitable growth. We know Heather's deep understanding of the Indigo brand as the country's leading voice on books and reading, and her commitment to the business, combined with a very special and dedicated organization, will put the company on the right trajectory."
Reisman added: "Markus brings unique knowledge of our industry and real passion for our business. We are very fortunate to have him as our chair and I know I will personally benefit from his guidance and engagement, as will our entire organization."
CBC News reported that the changes are "the latest twist in a tumultuous year for the company," which began with last fall's executive changes in which long-time company president Peter Ruis was promoted to CEO, and Reisman became executive chair. In the spring, the company was hit by a cyberattack, in the aftermath of which Reisman announced her retirement from the company. Several board members also resigned at the time. Ruis's resignation from the CEO position he had held for less than a year was the most recent challenge.