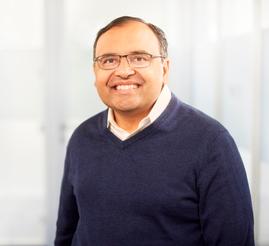 Nihar Malaviya
Nihar Malaviya, who was made interim CEO of Penguin Random at the end of last year following the resignation of Markus Dohle, is now the official CEO, parent company Bertelsmann announced.
Bertelsmann chairman & CEO Thomas Rabe stated: "In Nihar Malaviya, the right leader is at the helm of Penguin Random House at the right time. Nihar has proven exactly this over the past nine months, and I am delighted that he is now taking over responsibility for Penguin Random House on a permanent basis. As interim CEO, Nihar has set an important strategic course. Most importantly, he has transformed the structures at Penguin Random House so that the publishers and publishing groups can work more creatively and entrepreneurially. I am confident that he will continue to develop the Group with great vigor. I look forward to continuing to work with him as CEO of Penguin Random House and on [Bertelsmann's] Group Management Committee."
Malaviya served as president and chief operating officer of Penguin Random House U.S. from 2019 to late last year, and since 2014 had responsibility for all publishing operations in the U.S., from supply chain to technology & data and client services. He began his career at Bertelsmann in 2001 as a participant in the Bertelsmann Entrepreneurs Program, and in 2003, he moved to Random House. Malaviya is a two-time recipient of the Bertelsmann Entrepreneur Award for Strategy Execution and holds an MBA in Finance and Marketing from the New York University Stern School of Business as well as a Bachelor of Science in Computer Science. He is also a member of the boards of the Association of American Publishers and of Yale University Press.