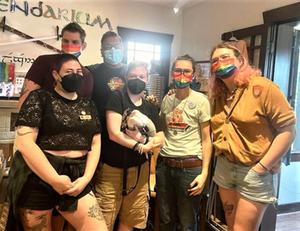 Back: (l.-r.) Tara Lipsyncki; Calvin Crosby; (front) Kaitlyn Mahoney (Under the Umbrella); Andrew Joseph White; Orion Enceladus and Raelle Westwind (the Legendarium)
Three queer-owned bookstores in Salt Lake City, Utah, teamed up to host trans author Andrew Joseph White and celebrate his new YA novel The Spirit Bares Its Teeth (Peachtree Teen).
The event, a collaboration between the King's English Bookshop, Under the Umbrella, and the Legendarium, took place Saturday evening at the Legendarium and drew some 70 attendees. Calvin Crosby, co-owner of the King's English Bookshop, noted they were "almost all members of the trans youth community here in SLC."
Tara Lipsyncki, hostess of the King's English Bookshop's drag storytime, was also in attendance, and the event benefited Brain Food Books, a nonprofit run by Crosby that distributes books to kids and teens.
Saturday's event was the third time the three bookstores have partnered. The first such event saw Jason June visit the King's English, and they teamed up again to co-host a Drag Queen Storytime at Under the Umbrella. The stores hope to continue co-hosting events on a quarterly basis, with all co-sponsored events benefiting Brain Food Books.
"Like our queer community here in Utah, independent bookstores are stronger together," Crosby said in his introduction Saturday night.