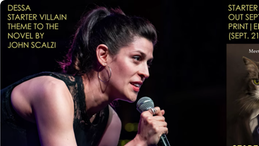 Tuesday was publication day for John Scalzi's latest novel, Starter Villain (Tor Books). As part of the celebration, Scalzi, who occasionally commissions theme songs for his books from musicians he likes, asked rapper, singer, songwriter, and author Dessa "to do a song for the book, and, oh boy, did she deliver." Check out the song and lyrics here.
"Happiest of Pub Dayz to @scalzi--his new novel STARTER VILLAIN is on shelves in the U.S now," Dessa posted. "I had the chance to read it a bit early (flexxx) and was even invited to pen a little song on the occasion of its release."
Scalzi responded "It's soooooo good y'all Dessa is the best."