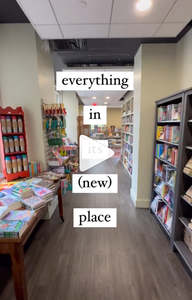 M. Judson Booksellers, Greenville, S.C., "has just undergone a major redesign of its interior space, including updates to its Camilla Kitchen cafe and bakery," the Greenville Journal reported. The new interior space features an expanded children's book section, a redesigned spot for stationery and journals, and more room in the cafe area, along with other updates.
In addition, a new mural by artist Sarah Farrar "highlights the hallway to the back of the old courthouse space where the children's section now resides," the Journal noted.
"We worked hard to bring some new surprises, and so many more books and delights into the store. Along with more COLOR," M. Judson Booksellers posted on Instagram, along with a video showcasing the changes. "This is your place: to sip coffee, to browse, to share ideas, and to be. Here's to the seasons ahead!"