In the U.K., an updated Industry-Wide Statement on the Book & Publishing Industry's Professional Values has been released by the Publishers Association, Society of Authors, Booksellers Association, and Association of Authors' Agents. Launched five years ago, the document has been updated by representatives of the industry associations in consultation with their memberships.
Several new organizations have also endorsed the statement, including the Association of Illustrators; Translators Association; Publishing Scotland; Independent Publishers Guild; and Writers Guild of Great Britain.
The overall structure of the document has been changed so that it now encompasses 10 points, with additional emphasis on areas such as mental health. More reference to online behavior and social media discourse has also been incorporated. The associations involved noted that while they are not standards bodies, they "believe that an industry commitment of this kind can support an industry-wide culture we can be proud of--one which is welcoming to all, respectful of all, and supportive of all."
Literary agent Natalie Jerome, co-convener of an industry EDI Forum in which the updated statement was developed, said: "Building on the foundations of the original 2018 statement, this new version lays out our commitment to celebrating and actively promoting diversity and inclusion in all its forms, and a zero tolerance approach to abuse and the incitement of hatred of any kind. Post BLM and Me Too, we wanted to address the need for an expanded and robust set of professional values and we hope this will unite and take the industry forward. We will continue to look at ways in which together, we can improve upon, amplify and engage the industry with this vitally important, ongoing work."
---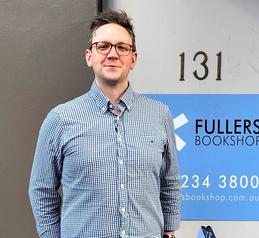 Tim Jarvis
In a letter to his bookselling colleagues, BookPeople (the association for Australian bookshops) president Tim Jarvis, owner of Fullers Bookshop, Hobart, Tasmania, noted, in part: "I'm writing to you from atop a fort that has been constructed from books and boxes of books. The fort was formerly known as my shop: I think Christmas mustn't be far away!
"I don't know about you, but I find it a disconcerting time: space is at a premium, the stock valuation soars, the future accounts payable figure reaches eye-watering heights, but the customers haven't quite started turning out and spending.... I take a lot of comfort in remembering that pre-Christmas feels like this every year, and every year the anxieties and apprehension of September and October (when plans are being made but it's all so abstract) give way to the busy-ness and adrenaline of November and December (even if big spending always starts later than I'd like it to).
"I take a lot of comfort, too, in the thought that books make the very best gifts.... This has been a year with plenty of economic headwinds, but I think the book industry is particularly well placed to face them. A book offers more bang for less buck than anything else I can think of, so why would anyone give anything else? So, from my station high up on a tower of teetering boxes, I'm looking to the future with cautious optimism. Best wishes for the silly season!"
---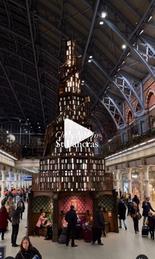 In London, Hatchards bookstore shared images of the stunning holiday book tree outside the bookseller's St. Pancras store, noting: "London's first Christmas tree of 2023 is up & it's lit! The @stpancrasinternational x @hatchstpancras tree is decorated with more than 3,800 books. The tree also features Christmas cubby holes where you can listen to audiobooks featuring the classics including Dickens, Michael Morpurgo & Beatrix Potter, perfect if you're waiting to catch a train!"
Luke Taylor, retail director at Hatchards, said: "Whether we are young or old, books offer an escape from the hurly-burly bustle of the modern world that no other medium can compete with; and there are few better ways to enjoy a good read than whistling through the countryside on a train! We are delighted to be partnering with St. Pancras International to bring this joy to the many station visitors, allowing people to escape, relax and enjoy literature for a few moments with the station tree. What a start to the festive season!"
---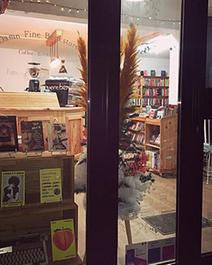 Also getting in on the pre-holiday spirit was the Damn Fine Bookstore in Lyon, France, which posted on Instagram: "Welcome November! Here we are, the night starts early, the days get chilly, it's the beginning of cancelling your plan season, the Scorpio season, in short: the best time of the year (for me) when you can enjoy a cup of black coffee with a book in your fave bookstore (100% objective over here) while listening to the rain! It's also nonfiction November so you'll find a selection of non-fiction books in the window all month long! I can't wait to see you all to share a coffee or a hot tea." --Robert Gray