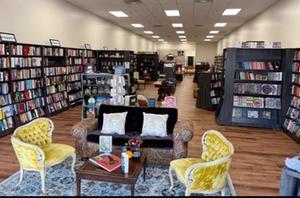 The Purple Couch Bookshop has opened in North Andover, Mass., the Cleburne Times-Review reported.
Located at 350 Winthrop Ave., the Purple Couch sells general-interest titles for all ages, with owner Katie Keisling noting that around 40% of the inventory is children's books while adult titles make up another 40%. With plenty of families with small children in the area, Keisling wanted to make sure that there was a wide array of children's titles available.
Keisling held a grand opening celebration for the bookstore on October 21, and her future event plans include everything from children's storytime sessions to poetry readings with North Andover's poet laureate.
Some of the most popular books so far, Keisling told the Times-Review, have been related to wellness and self-care. Children's classics like Make Way for Ducklings have proved popular, and she expects adult titles like The Woman in Me by Britney Spears to take off during the holidays.
"We want to sell what you like," she said. "I want to make sure it's fitting to the world people live in this year."
The bookstore is named for a purple couch that sits at the front of the shop and was made out of a van bench by Keisling's brother-in-law. The namesake couch is just one of many seating options throughout the store, and Keisling welcomes customers to sit and read, do homework, and relax.
Prior to opening the bookstore, Keisling had a 25-year career that saw her travel frequently, often to locations around the world. Once she decided she wanted to remain closer to home, she started planning to open a bookstore.