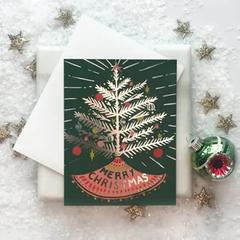 From Idlewild Co.
At the Potter's House in Washington, D.C., cards are "always huge," bookseller Aliza Cohen reported, and with the holidays approaching they're "picking up even faster." Cohen sources a variety of seasonal cards from makers on Faire, such as Idlewild Co., and Root & Branch Paper Co. Stickers also do well as impulse buys, with the store carrying lots of options from Fabulously Feminist. Cohen noted that around this time of year the bookstore sees an uptick in enamel pins and socks, with Band of Weirdos and Conscious Step being popular suppliers.
After experimenting with prints in the past, Cohen has brought in some new prints from "new and nifty artists" that are doing "better than anticipated." Cohen has focused on prints related to literature, nature, and social justice, and some of the store's more popular prints have come from Fabulously Feminist and Citizen Ruth. The bookstore tries to emphasize local makers and artists in general, with Cohen adding that next month the Potter's House will host a holiday bazaar full of "local creators of all sorts." And on the subject of the holidays, Cohen has brought in 2024 calendars (Cécile Berrubé) along with Christmas ornaments (the Winding Road), stickers, wintry craft kits, and more for the season.
---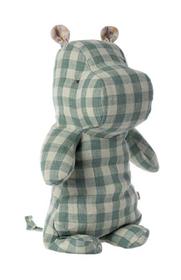 From Maileg
Benjamin Rybeck, general manager of House of Books in Kent, Conn., reported that the store has been trying to "elevate our children's sidelines" after recently hiring a children's specialist. They've brought in toys and stuffed animals made by the Danish company Maileg, which Rybeck described as "really beautiful" and "very European." House of Books has also started carrying games for the first time, with Rybeck and his team approaching it with "a little more of a boutique mindset." Rather than carry the Hasbro classics, they are prioritizing games like those produced by Keymaster Games.
Asked about perennial favorites, Rybeck pointed to Calyan candles and Leuchtturm journals. He remarked that for the first time in his bookselling career, he's reached the "mythical percentage" of 20% of sales being sidelines and gifts, and House of Books has done it by dedicating about a fifth of the store. The gifts section has "kind of developed its own clientele," and he said he feels that integrating sidelines with books is less important than making sure the nonbook section and the book section match aesthetically and holistically.
---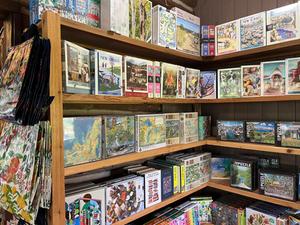 Puzzle display at Cottage Book Shop
In Glen Arbor, Mich., the Cottage Book Shop has had success with jigsaw puzzles featuring "iconic scenes of our area," said store owner Sue Boucher. Some have featured paintings by local artists while others have featured photographs, and they've been "perennial bestsellers." Though the bookstore is open year-round, it is a "resort type store," busiest in the summer, and Boucher and her team have found that "people love the gifts that evoke the area."
Boucher has also made her own postcards through Vistaprint, and the store sells "hundreds of postcards every year at affordable prices." Cottage Book Shop has also created custom stickers through Stickers Northwest that feature pictures of the area, as well as tote bags from Enviro-Tote that feature an artist's depiction of the bookstore. Cottage Book Shop does very well with greeting cards, many of which Boucher sources through Faire, and the shop has had success with Jellycat toys as well as stickers, candles, buttons, and magnets. --Alex Mutter
If you are interested in having your store appear in a future Sidelines Snapshot article, please e-mail alex@shelf-awareness.com.