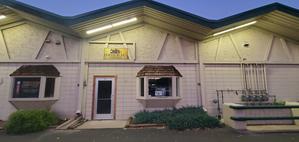 The future home of Blurred Words
Blurred Words, a "new concept that is an Art Deco bookstore and bar," will open in a few months, pending permits, at 1205 W. Elizabeth St, Unit I, Fort Collins, Colo., according to owner Liz Sanders. What Now Denver reported that four months ago, the company posted on LinkedIn it had secured a lease across the street from Colorado State University, in a 1,730-square-foot space owned by Nicol Campus West. Blurred Words will sell used and new books, alcoholic and non-alcoholic beverages, and appetizer treats.
"The boozy bookshop will have cocktails and light snacks behind a secret bookcase entrance, and live music events. Its theme is the 1920s and '30s, a nod to prohibition, the jazz era, and The Great Gatsby," What Now Denver noted, adding that Sanders has worked over the years as a writer, adjunct professor, book reviewer, student librarian, and bookstore manager. She is excited to bring this concept to the community.
The website for Blurred Words notes that at first glance, "it's just a bookstore featuring a wide selection of fiction and nonfiction books and gifts. Further exploration leads to a secret bookcase door opening into a speakeasy bar with specialty cocktails and snacks. An ideal place for book club gatherings and live music events, Blurred Words is a gathering place for time travelers and vintage enthusiasts... a place where intellect and entertainment merge to create a fun experience for visitors and patrons."