The winners of the National Book Awards, presented last night in New York City, are: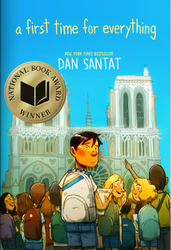 Young People's Literature: A First Time for Everything by Dan Santat (First Second/Macmillan). Santat thanked many people, including "last but not least" his mother, "who saw her young, insecure child endure the struggles of growing up in the tumultuous years of adolescence and gently pushed him out the door to show his young, innocent mind that despite the awkward and awful experiences we can sometimes experience in life that the world is immense, and that within that vast world there is also great kindness and love."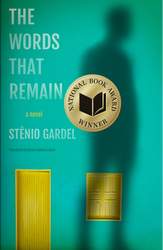 Translated Literature: The Words That Remain by Stênio Gardel, translated from the Portuguese by Bruna Dantas Lobato (New Vessel Press). Gardel said in part, "Growing up as gay boy in the hinterlands of the northeast of Brazil, it was impossible for me to think, to dream, of such an honor, but being here tonight as a gay man, receiving this award for a novel about another gay man's journey to self-acceptance, I wanted to say to everyone who ever felt wrong about themselves that your heart and your desire are true and you are just as deserving as anyone else of having a fulfilling life and accomplishing possible dreams."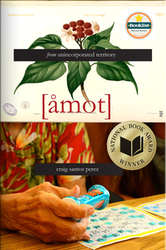 Poetry: from unincorporated territory [åmot] by Craig Santos Perez (Omnidawn Publishing). Perez said in part, "I'm from the very small island of Guam and there was only one bookstore. When I was a kid, my mom would take me there every week. She'd always buy me a book and she instilled the love of reading and writing from a very young age....
"Guam... is a U.S. territory, one of last remaining colonies in the world. And when I was growing up in a kind of colonial American school system, we were never taught my own people's literature. We were always taught American literature. So when I started writing, my mission was to hopefully inspire the next generation of Pacific Islander authors."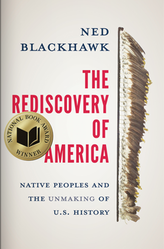 Nonfiction: The Rediscovery of America: Native Peoples and the Unmaking of U.S. History by Ned Blackhawk (Yale University Press). Blackhawk said in part, "The subject of American Indian history, while often simultaneously unfamiliar and discomforting, is also a shared experience that touches us all. The currents of the past run deep and inform the topography of the present, a theme that we have seen throughout the work of so many finalists this year. Native America is also a form of our national inheritance. We cannot or should not continue its systematic erasure. Moreover, it is a rich and vibrant field that provides uncommon and uncommonly beautiful insights."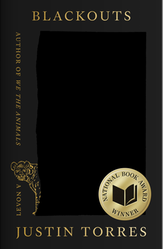 Fiction: Blackouts by Justin Torres (Farrar, Straus & Giroux/Macmillan). Torres thanked a range of people, including his partner, friends, his mother, his queer family, and his agent and publisher while nominees and other winners gathered on stage behind him to share a joint statement read by Aaliyah Bilal, author of Temple Folk (Simon & Schuster), a fiction award finalist:
"On behalf of the finalists, we oppose the ongoing bombardment of Gaza and call for a humanitarian ceasefire to address the urgent humanitarian needs of Palestinian civilians, particularly children. We oppose antisemitism and anti-Palestinian sentiment and Islamophobia equally, accepting the human dignity of all parties, knowing that further bloodshed does nothing to secure lasting peace in the region."