Shelf Awareness for Friday, April 27, 2012

News
Amazon's First Quarter: Sales Jump 33%, Stock Jumps 14%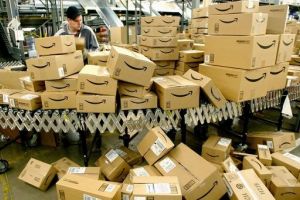 In the first quarter ended March 31, net sales at Amazon.com rose 33.3%, to $13.2 billion and net income fell 35.3%, to $130 million.

Despite the drop in net income, Wall Street liked the jump in net sales, which was above its forecasts, and in after-market trading yesterday, Amazon shares rose nearly 14%, to $224.

The company attributed much of the sales gain to digital products, saying that in the quarter, "nine out of 10 of the top sellers on Amazon.com were digital products--Kindle, Kindle books, movies, music and apps." It called the Fire tablet "the #1 bestselling, most gifted, and most wished for product across the millions of items available on Amazon.com since launch" and stated that "16 of our top 100 bestselling titles" on the Kindle store were exclusive titles.

In a conference call, CFO Tom Szkutak said, "Kindle and the total digital business is growing very strong." He also said customers are buying "a lot of content."

The drop in net income came in large part because the company has continued to invest in new distribution centers and new products like the Kindle Fire. Observers believe that the Fire is priced below Amazon's costs.

As the Wall Street Journal noted: "Investors, who have in the past groused over Amazon's high spending, appear inured to the company's expenditures and instead focused on its growth."

And the New York Times wrote: "Throughout its 15-year history as a public company, Amazon has at times caused fits among analysts with its willingness to invest heavily in initiatives that erode the company's profits, with the promise that those seeds will eventually turn into a bounty the company can harvest in the years to come. That cycle, though, has repeated itself often enough that Amazon's skeptics believe it is a permanent state of affairs, indefinitely depressing Amazon profit.... Jeff Bezos has been unapologetic about that approach, saying the company favors serving a huge audience of customers while delivering thin profit margins to investors over producing bigger profits from a smaller audience."

In its announcement about quarterly results, the company was cagey, as usual, about some statistics, but said:

Sales for the U.S. and Canada rose 36%, to $7.4 billion.
Sales in the rest of the world rose 31%, to $5.8 billion.
Sales of media worldwide grew 19%, to $4.7 billion.
Sales of "electronic and other general merchandise" worldwide grew 43%, to $8 billion.

Amazon predicted that net sales in the second quarter will grow in a range of 20%-34%, to between $11.9 billion and $13.3 billion.




Judge Calls Illinois Tax Law Unconstitutional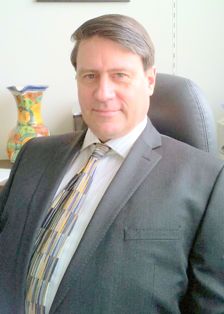 The online sales tax debate became a bit murkier Wednesday when Cook County Circuit Judge Robert Lopez Cepero said in court that the Main Street Fairness Act, which Illinois passed in March 2011, is unconstitutional, the Chicago Tribune reported, calling the opinion "yet another shot in the highly contentious nationwide battle over who should collect online sales tax and how."

According to Cepero, the Illinois law, which requires online retailers with "broad networks of online affiliates" in the state to collect sales tax on purchases by residents, "violated the commerce clause of the U.S. Constitution, which limits who a state can tax, and that the law conflicted with the federal Internet Tax Freedom Act, which prohibits some types of Internet-related taxes," the Tribune wrote.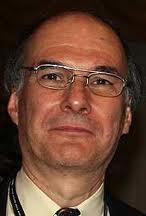 In Bookselling This Week, American Booksellers Association CEO Oren Teicher expressed confidence the ruling will be reversed on appeal: "We respectfully disagree with Judge Cepero's ruling. To date, two New York State courts have considered the exact same law and both courts upheld the affiliate nexus law as constitutional. As both New York courts found, the online affiliate business model is clearly a sales model, and, under the 1992 Quill vs. North Dakota Supreme Court decision, sales agents constitute nexus in the state. Without legislation to clarify the state's sales tax laws, Illinois's Main Street retailers will yet again be placed at an unfair disadvantage to out-of-state competitors, and the loss of sales tax revenue will be felt throughout the state's economy."

Rebecca Madigan, executive director of the Performance Marketing Association, told the Tribune that the "judge pointed out and agreed with us that the state overreached its boundaries in trying to regulate interstate commerce. We believe it paves the way for Internet marketing affiliates to get back in business in Illinois."

But David Vite, president of the Illinois Retail Merchants Association, countered: "This is the first step in a very long battle. We have seen local judges be overturned regularly on these kinds of questions."

In a statement, the Illinois Department of Revenue, which was the defendant in the case, said, "We respectfully disagree with the court's ruling and are reviewing our appeal options with the attorney general's office. We need to protect 'brick and mortar' stores from an unlevel playing field, and we need to recoup some of the estimated $153 million that was not paid by online merchants prior to the law being implemented. The law was a bipartisan initiative that passed both houses of the General Assembly with overwhelming support."



MWA's Edgar Awards: Crime Does Pay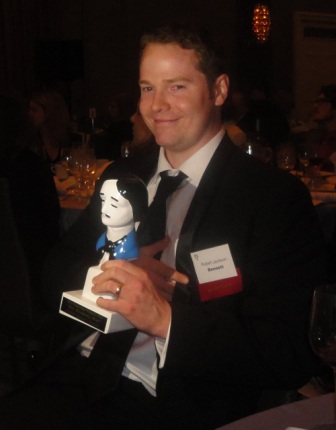 The Mystery Writers of America held its annual Edgar Awards ceremony at New York City's Grand Hyatt Hotel last night, with Mo Hayder's Gone winning for Best Novel and Lori Roy's Bent Road taking the prize for Best First Novel. The award for Best Paperback Original went to Robert Jackson Bennett (r.) for The Company Man, a prize he received enthusiastically while conceding he'd hadn't been expecting his science fiction novel to win.
In addition to the literary awards, the MWA also presented two Raven Awards for outstanding achievement in the mystery field to Molly Weston, a prolific reviewer and editor of the Sisters in Crime journal, and Ed Kaufman, the founding owner of the recently shuttered M Is for Mystery. "I don't know of anything I could have enjoyed more," Kaufman said of his decision, after retiring from a law career, to open the San Mateo, Calif., bookstore. He thanked authors, editors, publicists and others in the mystery publishing world "for being so good to me" over the years. "I hope," he added, "that they think I was good for them."
A full list of nominees and winners can be found at the Edgars website. --Ron Hogan



Booksellers & Self-Pubbed Authors Get with the Program
Many independent booksellers are developing programs to work with self-published authors "that clearly define their requirements and streamline the consignment process," Bookselling This Week reported, adding: "Profitable programs range from a no-questions-asked spot in a store's consignment section to an elaborate, tiered event option, including signings, readings and publicity."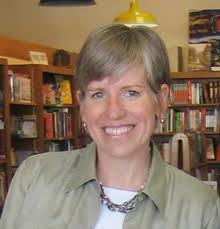 "Having a system in place relieves us of assessing all of the books, and it relieves us of the responsibility of having to respond to every single self-published author," said Sarah Bagby, owner of Watermark Books and Cafe, Wichita, Kan. She also advised: "Make sure the staff is trained and knows how to make the author feel comfortable, so that it's a good exchange for everyone. It's really helped our public relations in terms of how we work with self-published authors."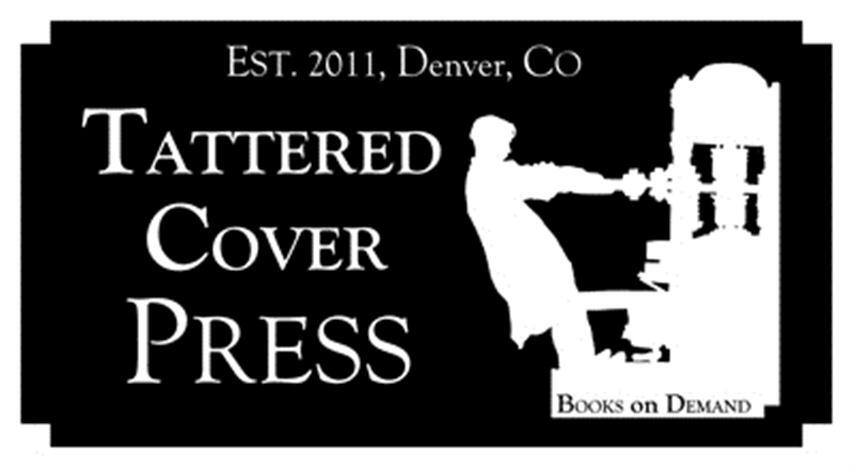 Matt Miller, general manager of the Tattered Cover Book Store, Denver, Colo., said having an Espresso Book Machine expanded the store's options for working with self-published writers, adding that "we try to treat every author with the respect they deserve for their efforts and their desire to make their works available to the larger community."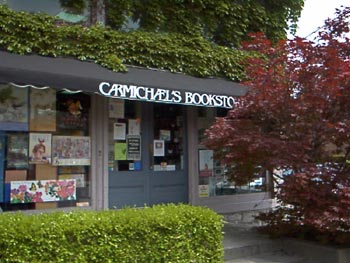 Carol Besse, owner of Carmichael's Bookstore, Louisville, Ky., said she considers her involvement with writers in the community an extension of the store's mission: "There's more to what we do than the bottom line. We do it because we want the authors to feel good, and if their friends and family are walking in to buy the book, that's a good thing. So the investment we make in it is worthwhile."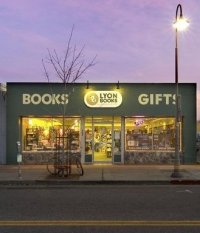 Working with local authors is "a big part of what we do," according to Heather Lyon, owner of Lyon Books, Chico, Calif. "I'm on a soapbox about this, because I know a lot of bookstore owners and managers don't like to work with self-published authors. I think they're missing out on the big picture... and profits. Once you embrace it, it's really not difficult."



Baker Street Books: New Owner Solves the Case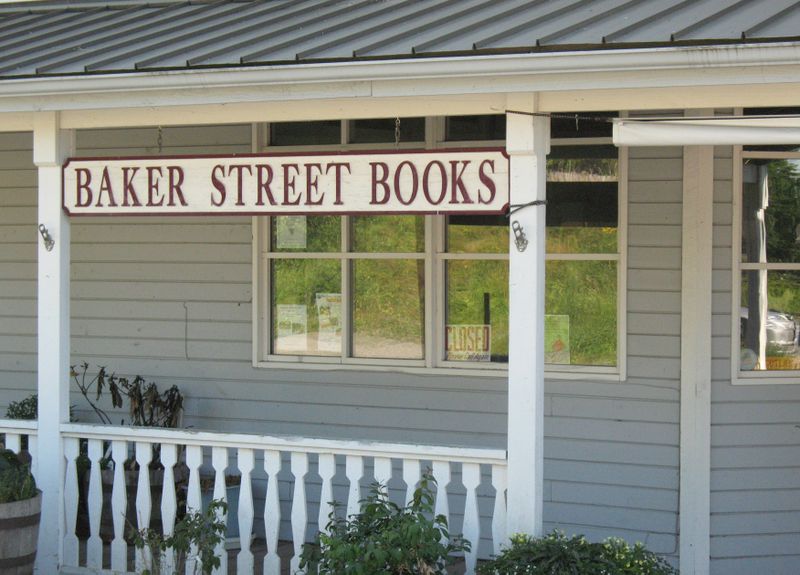 In a plot twist worthy of Arthur Conan Doyle, patrons of Baker Street Books, Black Diamond, Wash., gathered last Sunday "to mourn its closure, celebrate the joy the business had brought to the community as well as its owner, when it was announced that Kent resident Todd Hulbert was the white knight who had purchased the business from owner Bob Charles," according to the Reporter.

"My specialty is in Internet marketing," said Hulbert, who owns an online clothing and apparel business, as well as 150,000 books that will now have a home. "Books fit so beautifully into that. I wanted to get into the online book business, so I started buying very large lots of books all up and down the West Coast."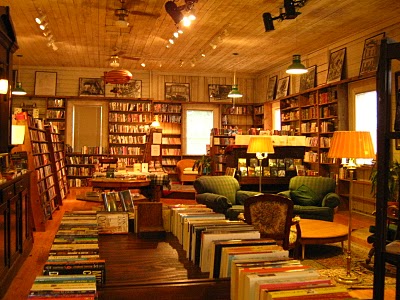 Charles announced in March that the store would close. "I had been thinking about it the past six or seven months, business had been going down because of the economy and people switching to e-books," he recalled. "Then on March 8 I took a tumble and fell on my back. I like to joke that the bookstore was getting even with me."

Hulbert plans to close the store for 60 days to make some upgrades, then reopen in July under a new name, Finally Found Books. "Bookstores are integral to any community," he said. "Having a bookstore within any community is important. Books are so important. This particular store is an icon within the community because it's been around so long."




Boneshaker Books Hopes to Expand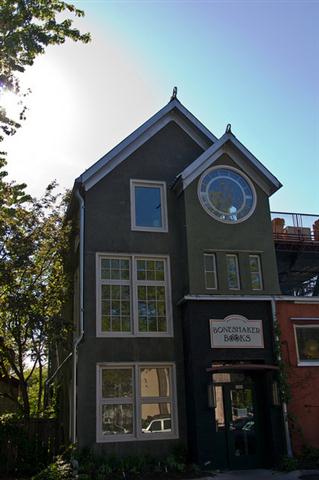 Volunteer-run radical and progressive bookstore Boneshaker Books, Minneapolis, Minn., is raising money to enhance its location. The Line reported that expansion plans include adding a children's section. Bookstore spokesperson Amanda Luker said the shop has enough space to expand: "With a little money, we could turn it into a kids' nook, with story time."

Boneshaker Books has launched a Kickstarter campaign to help fund the $10,000 project, "for which it has raised $3,000 by other means," the Line wrote.

"The main thing would be shelving and the initial cash flow for inventory, and then getting some comfortable furniture," said Luker, who added that the store also wants to "make the reading room more useful.... We just want to make it a nice, warm place for events and meetings.... Most people get a good vibe when they come. I have so many people comment on that."



Notes
Image of the Day: With a Song in Their Heart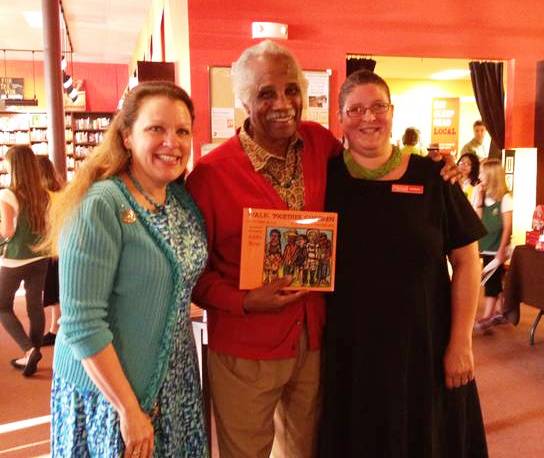 Flyleaf Books, Chapel Hill, N.C., recently hosted an event for children's book author/illustrator Ashley Bryan that attracted a crowd of more than 140 people, including a grade-school chorus. The event held to celebrate the publication of new editions of his award-winning books Walk Together Children: Black American Spirituals, Volume One and I'm Going to Sing: Black American Spirituals, Volume Two, which are published by Alazar Press, Carrboro, N.C. Pictured (l.-r.) are Alazar publisher Rosemarie Gulla, Ashley Bryan and Flyleaf co-owner and children's manager Sarah Carr.




Jim Dana: 'My Own World Book Day'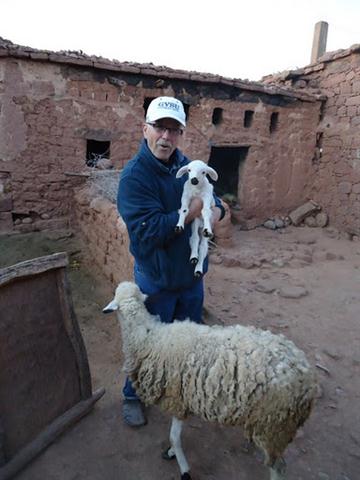 Jim Dana, the former executive director of the Great Lakes Independent Booksellers Association who retired in 2010 to serve as a Peace Corps education volunteer, wrote about the importance of World Book Night on his blog. Dana observed that "after living in a small village in Morocco for a little over a year now, I see even more clearly the important role that books play in changing individual lives, culture, even a country. In my town, except in my own house, only one time have I seen a book other than a textbook or a Koran. I have never seen a person reading for pleasure, or, for that matter, even for information. This is a good town, with good people, but it is also a town with a narrow vision, and a short vision.

"This 'bookless' culture is not confined to small villages. The city of Agadir, with a population of about 700,000, does not have a public library. In most schools, the libraries, if they exist, are locked most of the time and primarily contain textbooks. A recent report found that Moroccans spend an average of only 1 dirham (about 12½ cents) on books a year, and only 1,000 new books are published in Morocco each year.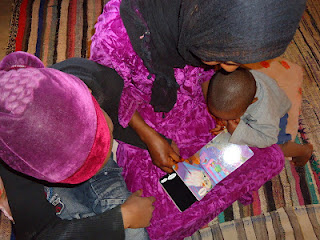 "But there are individuals, of course, who are fascinated by books. I'm speaking mainly of children who, like children everywhere, thirst for stories--stories that help explain their own lives to them but also, in [Ann] Patchett's words, help them imagine lives other than their own. And there a few adults, too. In my village, I've found one so far (there may be others)--Fatima, one of my host sisters. In February, on my return from the Marrakesh Marathon, I gave Fatima and Sulayman, my 6-year-old host nephew, each a book in Arabic--the first book either of them had ever owned. So that was my World Book Day, I suppose.

"Since then, I've gotten a few wordless (or nearly wordless) books from the States. Fatima has become the storyteller, supplying a Berber text to these wonderful stories. My plan is to create a library here in my village in connection with the women's association I work with. I'll tell you more about that in a future post."



Cool Idea of the Day: 'Ancient Writing Device' for Hire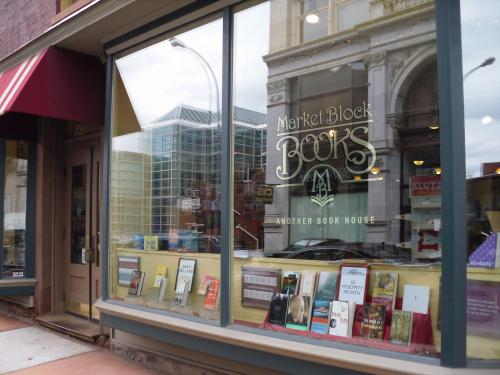 Beginning at 6 p.m. tonight, local author Amy Halloran will be the "Writer in the Window" at Market Block Books, Troy, N.Y., to help celebrate this month's Troy Night Out. Halloran "will be sitting in one of our windows with her typewriter composing poems, letters, stories for passersby," the bookstore's website explained. "You're invited to engage her services for the evening. Need a poem? A thank you letter? An amusing story? Amy will oblige you. We are asking for a small fee for her phenomenal skills. And you can bring your young children to see the ancient writing device she employs for her craft!"



Claire Taylor Joining Macmillan Sales
Effective May 7, Claire Taylor will join Macmillan's sales department as a national account manager selling Macmillan Children's Publishing Group and Macmillan distributed publisher children's titles to Walmart, Walmart Canada, Sam's Clubs, Costco and their distribution partners. She was formerly a national account rep at Candlewick calling on Walmart, Anderson Merch, Readerlink and other retail and merchandise partners.


Book Trailers of the Day: Equal Time for 'Bad' Dogs and Cats
Bad Dog: A Love Story by Martin Kihn (Vintage).
---
Cat Daddy: What the World's Most Incorrigible Cat Taught Me About Life, Love, and Coming Clean by Jackson Galaxy (Tarcher), star of Animal Planet's My Cat from Hell.


Media and Movies
Media Heat: Françoise Mouly on CBS Sunday Morning
Today on MSNBC's NOW with Alex Wagner: Nancy Gibbs and Michael Duffy, authors of The Presidents Club: Inside the World's Most Exclusive Fraternity (Simon & Schuster, $32.50, 9781439127704). They also appear on Sunday on CNN's State of the Union.

---

Tomorrow morning on the Today Show: Rodney King, co-author of The Riot Within: My Journey from Rebellion to Redemption (HarperOne, $25.99, 9780062194435). He will also appear on Dateline.

---

Tomorrow on NPR's Weekend Edition: Robert Draper, author of Do Not Ask What Good We Do: Inside the U.S. House of Representatives (Free Press, $28, 9781451642087). He will also be on Meet the Press on Sunday.

---

On CBS Sunday Morning: Françoise Mouly, art editor of the New Yorker and author of Blown Covers: New Yorker Covers You Were Never Meant to See (Abrams, $24.95, 9781419702099).
---

Sunday on NPR's Weekend Edition: Paul Ingrassia, author of Engines of Change: A History of the American Dream in Fifteen Cars (Simon & Schuster, $30, 9781451640632).
---
Sunday on 60 Minutes: Jose Rodriguez, co-author of Hard Measures: How Aggressive CIA Actions After 9/11 Saved American Lives (Threshold Editions, $27, 9781451663471).




Movie Visuals: New Breaking Dawn Pics
Indiewire featured new images from The Twilight Saga: Breaking Dawn, Part 2 while adding its own bit of snark: "While both RPatz and KStew are heading to the Cannes Film Festival next month (sorry Taylor, maybe next year, right?) here's a bracing reminder of why anybody cares about these two in the first place: Twilight.... Basically glamour shots of these three who will, for one last time, run around forests shining and transforming into monsters or whatever they do in these movies. We suppose this means a new teaser trailer is around the corner, either that, or the studio wants to throw some distraction out there while Bill Condon gets underway on some reshoots that he explains thoroughly are just to fix a few minor things. So don't worry, Twihards."



Books & Authors
Awards: N.Y.C. Literary Honors; Commonwealth Writers Shortlist
Mayor Michael Bloomberg hosted the N.Y.C. Literary Honors ceremony at Gracie Mansion last night for the new award "given to living writers whose work and lives have been informed by New York City, as a way of highlighting its place as home to the publishing industry and an inspiration to authors," the Times reported.

Honorees included Paul Auster for fiction, Roz Chast (humor), Walter Dean Myers (children's literature), Robert A. Caro (nonfiction) and Marie Ponsot (poetry). Robert Silvers, editor of the New York Review of Books, received an award for contributions to literary life; and Angelica Modabber, a high school student and writer who will attend Barnard College this fall, was the student honoree.

---

Commonwealth Writers has announced the shortlists for the Commonwealth Book Prize and Commonwealth Short Story Prize. Regional winners will be named May 22 for Africa, Asia, Canada/Europe, Caribbean and the Pacific. The overall winner will be announced at the Hay Festival on June 8.



Book Brahmin: Alex Adams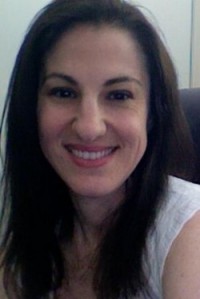 Alex Adams was born in New Zealand, raised in Greece and Australia, and currently lives with her sweetheart in Oregon--which is a lot like New Zealand, minus those freaky-looking wetas. Her debut novel, White Horse (Emily Bestler Books/Atria, April 17, 2012), is a post-apocalyptic thriller, the first in a trilogy.
On your nightstand now:
Jonathan Kellerman's Rage and Rob Ziegler's Seed. Kellerman's novel is a reread for me. I recently experienced a sudden urge to spend more time with Alex Delaware and Milo Sturgis. Now they're living in my iPad. Seed captured my attention at the World Fantasy Convention in San Diego. Night Shade Books had an interesting display for the novel with these tiny packets of seeds. I stopped to rattle them (couldn't resist!) and wound up reading Seed's flap copy. It went straight onto my must-read list.
Favorite book when you were a child:
It's not one book, but three: Enid Blyton's Faraway Tree books. I knew there was no such thing as a magical tree with ever-changing worlds at the top, but I wanted there to be. I still want there to be. Who wouldn't love to take a day trip to the Land of Presents?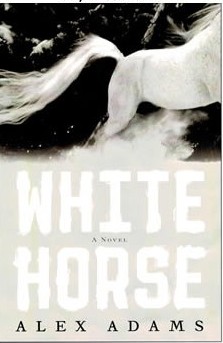 Your top five authors:
This question is standing on a pile of shifting sand. My answers change daily, depending on what I'm reading, and depending on my mood. I love Terry Pratchett for his wit and for his wisdom. I love George R.R. Martin for his ability to weave an intricate tale without dropping threads. Stephen King showed me monsters in dark places, then Jodi Picoult revealed them as mortal women and men. Jane Austen taught me that love is funny. And Jasper Fforde takes me someplace new and completely imaginary with every book. That's six, but I get lost after the number three.
Book you've faked reading:
Pride and Prejudice, but only when it was required reading in high school. In those days, Jane Austen and I did not click, and I had to fake my entire 12th-grade book review. We reevaluated our writer/reader relationship in my early 20s, and fell in love.
Book you're an evangelist for:
Lamb: The Gospel According to Biff, Christ's Childhood Pal by Christopher Moore. It's the funniest book ever. Really.
Book you've bought for the cover:
None. While an amazing cover (Twilight; The Book of Lost Things; Miss Peregrine's Home for Peculiar Children) has the power to reel me in for closer inspection, it's the cover flap and first few lines (at least) that make me open my purse.
Book that changed your life:
Goldilocks and the Three Bears. Goldilocks was the first book I read on my own. It opened entire worlds.
Favorite line from a book:
"The truth may be out there, but the lies are inside your head." --Sir Terry Pratchett (Hogfather). Few speak simple truths about human nature as well as Terry Pratchett.
Book you most want to read again for the first time:
The Name of the Wind by Patrick Rothfuss. Actually, it's the just the most recent. There are a handful of books that affected me so deeply and entertained me so greatly that I'd love to recapture that first magic reading experience. Among them are the Harry Potter books, The Thorn Birds and King's The Stand.


Book Review
Review: My Struggle: Book One
My Struggle: Book One by Karl Ove Knausgaard, trans. by Don Bartlett (Archipelago Books, $18 paperback, 9781935744184, May 1, 2012)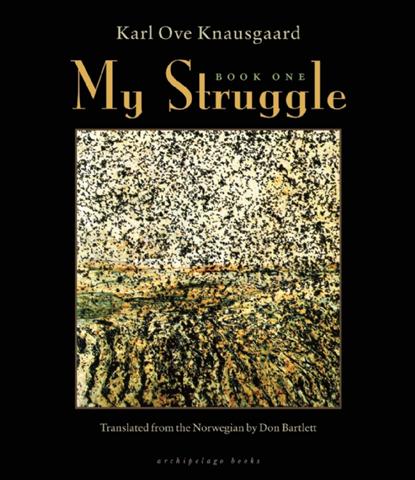 It's a lucky reader who gets buried alive in the literary avalanche of Karl Ove Knausgaard's My Struggle--a free-wheeling, funny, smart, provocative chunk of narrative that just keeps on coming, a flashback-laced plunge into one man's life, with memories within memories rattled off like a simpler, friendlier modern-day Proust. Instead of dissecting elderly dukes and princesses, however, Knausgaard perceptively and comically describes middle-class teenagers and young married couples with kids. And this compulsively readable Norwegian magnum opus is just the first of six volumes.
My Struggle opens with a savagely witty exposure of our cultural need to keep death out of sight. At the book's center is Karl Ove Knausgaard himself, telling his own story in a montage of memories, primarily as a 16-year-old with illegally obtained beer on New Year's Eve in Part One, then, in Part Two, as an adult accompanying his brother to the home of his grandparents to remove a houseful of his father's bottles and alcoholic debris to prepare for his father's funeral.
Bravely dog-paddling into this river of language, the reader encounters dozens of characters from Knausgaard's life: his bungling, domineering father, his aloof but devoted brother, his elusive mother, both of his wives, his best friends, his first crushes, his uncles and aunts and cousins and--most of all--his incontinent, repetitive, alcoholic Grandma, once torn between her love for two brothers, now consumed by her clinging son. Looping backward and forward in time, through the angst of adolescence, the exhaustion of childrearing, the flickering changes in his parents as they grow apart and decide upon a divorce, Knausgaard records hyperrealistic impressions with scalpel precision.
It's a life transformed into words. That My Struggle is so often warm and funny belies all the stereotypes of bleak, humorless Scandinavian writing. Sidestepping obvious melodramatic plot points, Knausgaard builds emotional momentum out of the ordinary, making a profoundly moving climactic sequence out of cleaning an obscenely dirty house, or out of a mother and her two sons drinking in the evening, reliving their memories. With exhilarating faithfulness to reality, Knausgaard relentlessly exposes himself as he ponders his book's own creation: "The only thing I have learned from life is to endure it, never to question it, and to burn up the longing generated by this in writing." --Nick DiMartino
Shelf Talker: The first of a six-volume Norwegian epic laying out the author's life in hyper-realistic detail through a flashback-laced narrative piled thick with memories, laughter and anguish.


Ooops
Taking Our Medicine... Without a Spoonful of Sugar
In yesterday's note highlighting Julie Andrews's appearance on Grim Colberty Tales, we meant to say that Stephen Colbert's I Am a Pole (And So Can You) will be released next month. An e-mail from Ms. Andrews (or at least someone with a Julie Andrews-ish e-mail address) kindly informed us of our error.



Deeper Understanding
Robert Gray: The Rattiest Book
Although this headline may appear to be the title of a very bad children's book, it actually refers to something we all have lurking on our shelves: the tattered volume that looks as if it should have been tossed out years ago, but still remains nearby. You might even have a little shrine for it between bookends on your desk.

More often, however, your rattiest book is lost in the stacks. It probably has a distinctive, if not always pleasant, scent; a missing dust jacket; boards that are, at best, cracked if not altogether shredded; a threadbare spine; dogeared pages awash in marginalia and highlighted passages; and mysterious stains from decades of proximity to food and beverages.

To qualify as a genuine rattiest book, it must be one you purchased new, kept with you much of your life and would never part with voluntarily. From its shelf perch, your rattiest book has witnessed changing relationships, houses, jobs and friends, not to mention the ongoing arrivals and departures of other, much nicer looking books--cooler books, bestsellers, autographed books or first editions that have slipped through your hands like water while the rattiest book held on.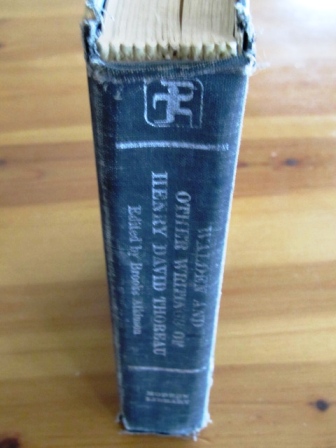 Let me introduce you to my rattiest book: Walden and Other Writings of Henry David Thoreau, a Modern Library edition I bought new one summer during my college years--probably in 1969 or 1970. At the time, Thoreau mattered more to me than almost anyone, living or dead. I made pilgrimages to Concord, visited Walden Pond and tried to ignore the beachgoers; left a pebble at his grave in Sleepy Hollow Cemetery. I carried Walden in my Army surplus knapsack every day then, opened it constantly like a holy book, and over a relatively brief period of time beat it to within an inch of its biblio-life.

My rattiest book is still here to tell the tale.

Reading this week about ancient texts from the Vatican and Oxford libraries going online, as well as Larry McMurtry's upcoming "Last Booksale," I couldn't help thinking about "value" because my rattiest book is the most valuable volume in my collection. Although I hadn't opened it for a long time, yesterday I knew exactly where to find it.

Three years ago, I wrote in a column: "Hidden in an old, broken down Modern Library edition of Henry David Thoreau's Walden was a bookmark from the Hartford Bookshop, Rutland, Vt. Although the bookmark reassured me that the shop was 'est. 1835,' the sad truth is that the Hartford did not make it beyond the 1970s."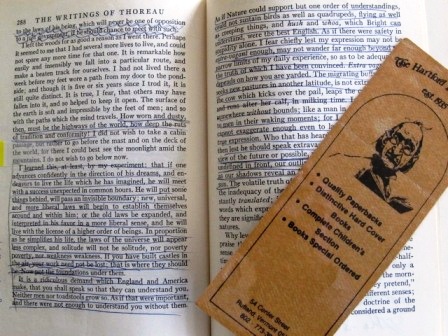 Now I open my copy of Walden to the same bookmarked page and wonder when I first put that marker there and why. I read a few lines: "I learned this, at least, by my experiment: that if one advances confidently in the direction of his dreams, and endeavours to live the life which he has imagined, he will meet with a success unexpected in common hours." I liked to underline passages then. Here more of the page is highlighted than not. Guess I grew more selective over the years.

I flip pages back to the beginning. Scribbled on the flyleaf, half-title and title pages are what I can only call "poems in the manner of Thoreau," which I wrote in earnest then and scan now with no small measure of embarrassment. But that emotion isn't quite accurate. My rattiest book is a time machine. The poems are markers, too.

I think the patron saint of rattiest books must be the rodent protagonist of Sam Savage's brilliant novel Firmin (Coffee House Press), in which an intellectual rat with a literal as well as literary taste for good books lives in a bookshop where, at one point, he observes the proprietor examining recent purchases from an estate sale:


I hated most of all reading the inscriptions over his shoulder: "For my darling Peter on our fiftieth wedding anniversary" (in The Rubáiyát of Omar Khayyám).... Dozens of these in every carload. It was obscene. They should have buried the books with their owners, like the Egyptians, just so people couldn't paw over them afterward--give them something to read on the long ride through eternity.

The rat's suggestion makes sense, especially when I consider the chilling possibility of other people reading my at once awful and oddly precious Thoreauvian poetry. Leave it to my old buddy Firmin to come up with the perfect way to celebrate the true value of our rattiest books.--Robert Gray, contributing editor (column archives available at Fresh Eyes Now)