Shelf Awareness for Readers for Tuesday, June 12, 2012

Book Candy
Authors' Childhood Homes; Bookshelves; Summer Reading
The childhood homes of 20 famous authors were explored by Flavorwire, which noted that "their early homes are just as varied as their writing styles."

---

Bookshelf objects of the day: From the Right Bank contended that "the best bookshelves are ones that hold mostly books with some decorative objects thrown in here and there."

---

Bookish apartment of the day: Design Milk showcased the Potts Point Apartment in Sydney, Australia, with its "large partition wall/bookcase/hidden bed unit that reconfigured the space and tackled the lack of privacy."
---

A "Summer Reading Flowchart" was offered by Teach.com to help you decide what to read on your break.
Great Reads
Further Reading: More Shades
Most of the what-to-read-next lists for those who've whipped through Fifty Shades of Grey are unfulfilling. Readers already know about The Story of O, Henry Miller, Anaïs Nin and Erica Jong.
Having written an erotic novel that caused some controversy--as much for how it was published as for its story--I've done my share of reading in and about the genre. I believe we read erotica for the same reason we read mystery, horror, romance or literary fiction--because it's exciting and turns on that part of our brain that wants to be turned on.
It's popular to criticize Fifty Shades because it promotes a BDSM relationship and worry that it's going to turn women into spineless slaves. But that's like suggesting Jeffery Deaver novels encourage readers to become sadistic serial killers. Many people read to escape into lives they would never want to live but enjoy visiting. For them, here's a list of some mainstream and not so mainstream erotica.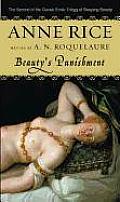 The Sleeping Beauty Trilogy by A.N. Roquelaure (pen name of Anne Rice). Wonderfully imaginative sexuality and plot, which is one of the things that makes good erotica stand out--it's more than one-handed reading.
Belinda by Anne Rampling (ibid). A highly controversial novel about a 44-year-old painter obsessed with a voluptuous 16-year-old. Highly sensual, it has the author's signature lush writing and tightly woven plot.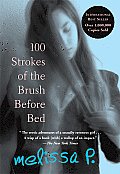 100 Strokes of the Brush Before Bed by Melissa P. A sexual coming-of-age novel that tells all. First published in Italy where it sold almost a million copies, it's been translated into 30 languages. The author claimed it was based on her own life. True or not, it's hot.
The Black Dagger Brotherhood by J.R. Ward. If your pleasure runs to vampires, you can't do better than this series. It's as addictive as vampiric lust and longing can get; there are 10 books in the series so you can keep indulging.
Master of the Mountain and the Masters of the Shadowlands series by Cherise Sinclair. My friend Liz, who told me about Fifty Shades about 50 weeks before anyone else had heard of it and who has read more erotica than anyone I know, swears Sinclair's series will more than satisfy any Fifty Shades addict.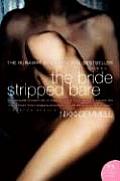 The Bride Stripped Bare by Nikki Gemmell. A bored housewife has disappeared and left behind a diary of lessons to help fellow wives avoid the kind of tedious marriage she endured. This book has sex, suspense, psychodrama, anger, tenderness and terror.
Vox by Nicholson Baker. Yes, erotica can be highly literary and still titillating. Baker's sex is all telephonic. This novel is a series of hot and then hotter phone conversations between two strangers.
Endless Love by Scott Spencer. Forget the movie. This is first love and first sex at its most furious and fiery. A beautiful, sexy and heartbreaking book.
Damage by Josephine Hart. What happens when passion overtakes your entire life? This is one of most powerful tales of sexual obsession I've ever read (and re-read). This dark gothic is utterly frightening in its unsettling intensity.
The Harrad Experiment by Robert H. Rimmer. This book sold more than three million copies when it came out in the late 1960s. The experiment takes place at a private college that allows the students to think for themselves and experiment in whatever way they choose. Of course, many of the experiments include sex.
M.J. Rose is the author of a dozen novels, including Lip Service, which was included in Susie Bright's Best American Erotica 2000, and Lying in Bed, chosen as one of the 10 best erotic novels by the Women's Erotic Reading Society.
The Writer's Life
Amanda Padoan and Peter Zuckerman: K2's Deadliest Day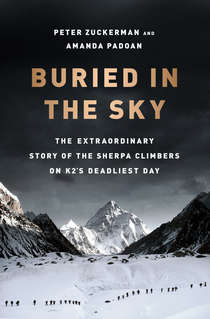 Buried in the Sky is an in-depth look at one of the most devastating climbing expeditions in the history of K2, the world's most dangerous peak. Amanda Padoan and Peter Zuckerman spent years researching the day in 2008 when 11 climbers died and traveled across the world to interview eyewitnesses. But their book has a special twist--it examines K2's deadliest day from the from the perspective of the men who set the ropes and carry the loads--high-altitude workers of the Sherpa, Bhote, Shimshali and Balti ethnicities.
Buried in the Sky (just out from W.W. Norton) actually started for Padoan years earlier when her brother William, her climbing teacher and partner, died just before his 24th birthday. The two had been planning a trip to the Himalaya.
She recalled, "His death completely unhinged me. I shaved my head, left my mother a note on the kitchen table and went to climb in Tibet. I had no idea when I would come back. In the summer of 2004, I made my way to Pakistan where I attempted a 26,400-foot peak called Broad Peak, the mountain that faces K2. I didn't connect to the American and European climbers who shared my permit. They were there for a summit; I was there for an answer, maybe. I spent most of my free time with the Pakistani high-altitude porters. I appreciated their spirituality and enjoyed watching them perform salaat (prayer)."
One of those high-altitude porters was a man named Karim Meherban. "Karim reminded me of my brother because he was always looking out for me. After the climb, he returned to Shimshal, a village in the Karakorum, and I returned to Los Angeles to resume normal life as an attorney."
Four years later, Karim died on that tragic day on K2. As Padoan watched news reports from her home in Los Angeles, she felt that great loss again. "Perhaps it was like losing William a second time."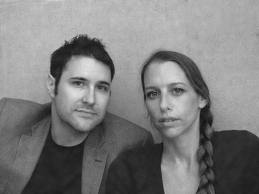 It was Karim's anonymity in all the news coverage that frustrated Padoan and made her want to pursue his story for the world to hear. However, Padoan was also nursing a newborn at this time. So she called in reinforcement, her cousin, journalist Peter Zuckerman. But Zuckerman had never climbed a mountain: "You can learn only so much by reading and watching people climb. I needed to do it. I had two of the main characters--Chhiring and Pasang--give me climbing lessons, using the same gear they used on K2. I hardly became the world expert on mountaineering, but the experience was invaluable. It also helped that my co-author is a mountaineer and that I spent several months trekking around Nepal and living with the Sherpas and high-altitude workers. This background shaped the kinds of questions I asked, the descriptions I wrote, and the angles I took, making the book more precise and compelling."
It also provided Zuckerman with some unrelated experiences, including eating yarsagumba. He explained in an article for Rock and Ice magazine, "Nobody knew what this thing was, but it looked harmless.... It resembled a shriveled caterpillar with a tumor growing from its forehead." The world's only half-plant, half-animal is believed to be medicine and eating it was all in the name of research, right? "It treats sunburn, strengthens nails, regenerates the hairline! It's the well-known Himalayan Viagra!"
When both Zuckerman and Pasang thought they were dying as a result of eating the yarsagumba, they phoned Padoan in the middle of the night for help. "So you're in a village in the Himalaya. You just OD'ed on a caterpillar with shrooms growing out its head--and want an evac on a Soviet-era helicopter?"
Zuckerman and Pasang obviously both lived through that experience, but even with Zuckerman learning to climb, the pair still had many obstacles to overcome to tell their story; a language barrier was one of the greatest. "In all we conducted interviews in 14 languages, at least four of which are considered rare or dying languages," Padoan explained.
Zuckerman added, "Interpreters were crucial to the research: some of the dialects the Sherpas and high-altitude porters spoke were so rare they were only used at one village. As a result, the interviews were excruciating. It often took weeks of trekking to get to a village and days trying to find the right person at that village. From there it might be several more days of drinking tea and hanging out to gain the trust of the person I wanted to interview. When the interviews started, questions and answers sometimes had to go through two layers of interpreters before they could be translated into English.
"Despite all that work, I still did not ask every question I should have, and there were no second chances in many instances. Like the disaster on K2, aspects of the story will probably always remain a mystery."
What made Padoan and Zuckerman's work so different from the extensive media coverage? Padoan explained, "There were blind spots in the initial coverage. It's extremely difficult to get accurate information unless you speak directly with eyewitnesses in their native language.
"I moonlighted as a mountaineering journalist for years, but my day job was working as a deputy district attorney. This background in trial law was useful when culling through the evidence to write Buried in the Sky. It taught me to seek out every witness I could, study every photo, video and audio recording I could find, while asking the basic questions: What hearsay is reliable or unreliable? What factors make a witness reliable or unreliable? K2 wasn't a crime scene, per se, but there were similarities--11 deaths, traumatized eyewitnesses, perceptions altered due to extreme physical and emotional stress."
And the other benefit Padoan had that many journalists did not was her network:
"I have been climbing in the Himalaya and Karakorum since I was a teenager, and my most enduring friendships are there. Maybe that's the definition of 'friends in high places,' because mountaineers went out of their way to help us. Nazir Sabir, a legendary mountaineer from Hunza, managed to get us critical interviews within Pakistani military bases and other highly restricted areas. Peter and I must have been the envy of the C.I.A."
Their hard work and determination paid off. Buried in the Sky, while the story of great devastation, is also a beautiful tribute to Padoan's friend Karim Meherban; he and and the other indigenous mountaineers no longer remain anonymous. --Jen Forbus of Jen's Book Thoughts
Literary Lists
Authors Lives As Awesome Books; Mad Men Replacements
Flavorwire suggested "10 famous authors whose lives would make awesome books."

---

To get you through those long months until next season, the Millions recommended "10 books to read when Mad Men is over."

---

Author Jennifer Weiner shared "three of my favorite novels that center on, or feature, disastrous vacations" in the Washington Post.

---

Introducing "Book Party for One: A Loner's Summer Survival Guide," NPR's Maureen Corrigan observed that summer is "an especially trying time for those of us who'd rather stay indoors and read a book."
Book Brahmin
Book Brahmin: Christopher Moore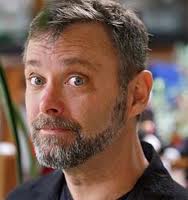 Christopher Moore's new book, Sacré Bleu (Morrow, April 3, 2012), is a romp through Belle Epoch Paris, where Toulouse-Lautrec and Lucien Lessard open an artist's Pandora's Box while trying to solve the murder of their friend Vincent van Gogh. Moore is the author of 12 other novels covering topics from Shakespeare's King Lear to cetacean biology. He was born and raised in Ohio, and now divides his time between San Francisco and Hawaii. When he's not writing, Moore enjoys ocean kayaking, scuba diving, photography and sumi-e ink painting.
On your nightstand now:
Raylan by Elmore Leonard; Shylock, A Legend & Its Legacy by John Gross.
Favorite book when you were a child:
Green Eggs and Ham by Dr. Seuss or The Mouse and the Motorcycle by Beverly Cleary or The Mysterious Island by Jules Verne, depending on what size kid.
Your top five authors:
John Steinbeck, Shakespeare, Kurt Vonnegut, Carson McCullers and William Butler Yeats.
Book you've faked reading:
Being and Nothingness by Jean-Paul Sartre. I used to crib quotes from it and walk around all clench-jawed and angsty, while wearing a long coat, but I actually never read it.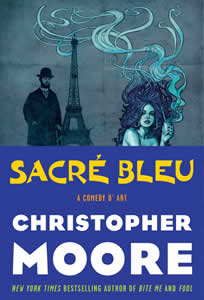 Book you're an evangelist for:
The Last Days of Summer by Steve Kluger. It's an epistolary novel about a kid writing to a baseball player during World War II to try to get him to hit a home run for him on the radio. It's hilarious. A sales rep from the publisher forced it on me several times after I tried to chuck it at a trade show, but he kept picking it up and giving it back to me. I read it, and it turned out to be one the funniest things I'd read in 10 years. Really a joy, and I wasn't a baseball guy.
Book you've bought for the cover:
I used to buy a lot of books for the covers when I was in my teens. I bought a whole series of H.P. Lovecraft books because they had extraordinarily creepy covers. I fancied myself a horror-story writer in those days, so creepy was good.
Book that changed your life:
Cannery Row by John Steinbeck. It taught me about narrative voice and the power of having a forgiving attitude toward one's characters.
Favorite line from a book:
"All human actions are equivalent and all are on principle doomed to failure." --Jean Paul Sartre from Being and Nothingness (probably).
Book you most want to read again for the first time:
To Kill a Mockingbird by Harper Lee.
Book Review
Fiction

Gone Girl
by Gillian Flynn

Maleficium
by Martine Desjardins , trans. by Fred A. Reed , David Homel
Five Miles South of Peculiar
by Angela Hunt
Little Night
by Luanne Rice
The Dream of the Celt
by Mario Vargas Llosa , trans. by Edith Grossman
Mystery & Thriller
Into the Darkest Corner
by Elizabeth Haynes
Science Fiction & Fantasy
Redshirts: A Novel with Three Codas
by John Scalzi
Food & Wine
Savory Sweet Life: 100 Simply Delicious Recipes for Every Family Occasion
by Alice Currah
Biography & Memoir
The Cost of Hope: A Memoir
by Amanda Bennett
Sports
The Price of Gold: The Toll and the Triumph of One Man's Olympic Dream
by Marty Nothstein and Ian Dille
Children's & Young Adult

Never Fall Down
by Patricia McCormick
Summer of the Wolves
by Polly Carlson-Voiles
--- SPECIAL ADVERTORIAL OFFERINGS ---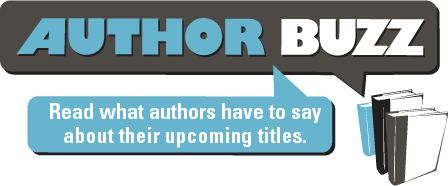 Dear Reader,

When I first set up a "demon graveyard," of sorts, for my Demonica/Lords of Deliverance series, I never imagined that the characters who populated it would become so central to the series. But here we are, following up the Grim Reaper's story with that of his right-hand man, Hades.

Dark, lethal, and a little playful, Hades will take a beautiful, brave fallen angel on a journey that will lead them both to danger and, possibly, love.

Please write to 1001DarkNights@gmail.com to win one of five copies.

http://www.1001darknights.com/authors/2015-books/larissa-ione-hades/




Publisher: Evil Eye Concepts, Inc

Pub Date: 5/26/15

ISBN: 978-1-940887-54-8

List Price: $2.99