Shelf Awareness for Readers for Friday, June 8, 2012

Book Candy
The Iron Throne; Bangkok Bookshelf; Illuminated Initial Cookies
Game of Thrones: the furniture. For only $30,000, you can take possession of the Iron Throne. Wired reported that "HBO is offering a life-size replica of King Joffrey's seat from the hit fantasy series, made of 350 pounds of fiberglass and resin. (No, it's not actually iron. That would have required a crane for delivery.)"

---

Bookcase of the day: An "acrylic bookshelf inspired by the roadmap of Bangkok" was featured on the Bookshelf blog.

---

When rare illuminated manuscripts just aren't filling enough, the Luminarium blog recommended you treat yourself to some Medieval Illuminated Initial Cookies, printed "on edible paper with edible ink."

---

For word geeks, Mental Floss offered "17 winning words from past National Spelling Bees" like "esquamulose" and "succedaneum."

---

Bernie Su and Hank Green have put a "modernized spin"--via YouTube--on Jane Austen's Pride and Prejudice with a series of vlog entries called The Lizzie Bennet Diaries, Wired noted.
The Writer's Life
Enrico Moretti: Economic Sense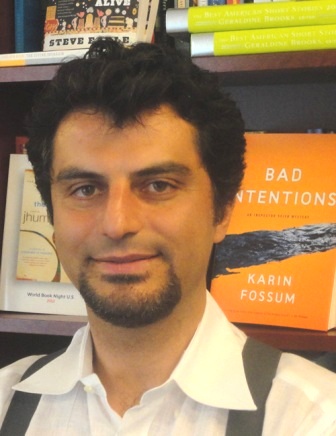 Enrico Moretti first became interested in economics as a high school student with a passion for environmental policy, drawn to the field's practical nature and real-world relevance. "Making an argument based on moral grounds is useful," he said, hanging out in the offices of Houghton Mifflin Harcourt during a recent visit to New York City. "But being able to make an argument based on economic grounds is even more useful."
As he went on to college in his native Italy and then to graduate school at U.C. Berkeley--to which he returned as a professor in 2004--Moretti began to concentrate his attention on labor markets and the role of education in economic prosperity--a field of study that has culminated with the publication of The New Geography of Jobs. Why do some cities thrive while others remain economically stagnant? Since the 1980s, he argues, the average education of the local workforce has been the best predictor of a city's economic success. When a well-educated workforce is combined with local centers of innovation and research, a new cluster of prosperity can develop: think Hollywood 100 years ago or Silicon Valley and Seattle in the 1990s.
The problem is that these factors are not distributed evenly across the United States. As a result, Moretti warned, "we're not just one nation, we're several nations, and we're drifting apart." Education reform is one solution to this "Great Divergence," but it's not enough. (Consider Santa Barbara, for example: great universities, a perfect climate and an excellent cultural scene, but, he notes, "an economy that hasn't generated any jobs outside tourism in decades.") Local economies need to learn how to be flexible, to adjust as industries wax and wane. Otherwise, he said, they could meet a fate similar to Rochester, N.Y., or Detroit, Mich.
Subsidizing innovative start-up companies is one way to grow a new prosperity center, but as the controversy over federal loan guarantees to the failed solar energy developer Solyndra demonstrates, government funding won't ensure success. "It's hard to know what the next big thing is," Moretti said, "even for those whose job it is to do that." Venture capitalists spend their professional lives looking for the best start-up investments, and even they get it wrong plenty of times. "So the best industrial policies that we can come up with for the U.S. today are probably not choosing one industry over another, but investing in clusters and investing in research and development."
One solution that Moretti takes issue with is the notion, popularized by authors like Richard Florida, that cities can spur economic growth by attracting a "creative class" of workers. "Coolness and sexiness are a great thing for cities," Moretti said, "but they won't necessarily generate good jobs." He cited Berlin as an example of a city that attracts plenty of talented people, but hasn't seen the expanded job market to match. By contrast, he proposes, an innovation cluster will not only create jobs in the originating industry, but also lead to the ancillary jobs--including "creative" positions--that emerge to provide local services.
The New Geography of Jobs is Moretti's first work for general audiences after years of writing for fellow economists. "Our careers depend almost exclusively on the papers we write and the intellectual impact they have on the profession," he said. "After 18 years thinking about these questions, I felt an incredible urge to reach a broader audience." He enjoyed writing in a new voice ("dealing with the meat of the problems") and, though unimpressed by Paul Krugman's current op-ed writing, he drew inspiration from the Nobel laureate's earlier work, especially the 1995 book Peddling Prosperity. "His books from the 1980s and '90s were an example of how to take complicated economic ideas, and make them compelling to a general reader," Moretti said. "He didn't back down from the technical issues, but described things in a deep way."
Moretti has also been reading Steve Jobs, the biography by Walter Isaacson, and finding a lot in it relevant to his own theories about innovation systems. The emphasis on close collaboration among highly talented individuals, and the belief that good ideas are never born in a vacuum, is also essential to understanding Moretti's own relationship with the Berkeley economics department, which he describes as "probably one of the best places to do the type of research I'm interested in." After his book tour, Moretti will continue his research on labor markets, particularly the influence of policies intended to spur growth in specific locations--another example of how, he said, "economics is one of the most powerful lenses we have for interpreting our current reality." --Ron Hogan
Literary Lists
Summer Reading and Graduate Picks; Art Books
Ten summer reading picks "that will inspire, enlighten and entertain adults, teens and youth" were recommended by Cindy Dach of Changing Hands Bookstore, Tempe, Ariz., in the Republic.

---

Roxanne Coady, owner of R.J. Julia Booksellers, Madison, Conn., suggested "10 books for my son the graduate" for the Daily Beast.

---

Michael Bracewell, author of The Space Between: Collected Writings, chose his top 10 art books for the Guardian.

---

Inspired by the news that Guy Ritchie will direct a film adaptation of Robert Louis Stevenson's Treasure Island, Flavorwire listed some other "classic novels and the filmmakers who were born to direct them."
Book Brahmin
Book Brahmin: Wiley Cash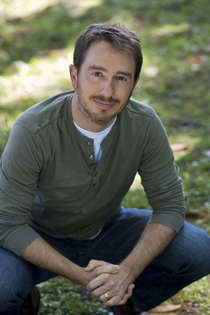 Wiley Cash is the author of A Land More Kind Than Home (Morrow). The novel tells the story of the bond between two young brothers and the evil they face in a small North Carolina town. A native of North Carolina, Wiley and his wife live in Morgantown, W.Va. This is his first novel.
On your nightstand now:
I have advance copies of both Shine, Shine, Shine by Lydia Netzer and Billy Lynn's Long Halftime Walk by Ben Fountain. I'm really enjoying them, and I think they'll both be big books by two very talented writers. Because they're advance copies, I feel like I know a secret that a lot of other folks don't know yet.
Favorite book when you were a child:
The earliest book I remember reading and having read to me was a Star Wars book for young readers. It was accompanied by an audiotape that included a narration and sound effects taken from the film. I listened to that tape and flipped through that book relentlessly. One evening, as my mom began to read it to me, I asked her if I could read it. I picked it up and read the entire thing. She was shocked because I was only four, and I hadn't yet learned to read. Turns out that I hadn't learned; I'd just memorized the audiotape. I even made a ding sound when it was time to turn the page. My rise from "normal" to "exceptional" lasted about three minutes, but they were glorious.
Your top five authors:
This is pretty tough. I'll give it a shot by listing the top five Southern authors whose work has affected me the most: Ernest J. Gaines, Thomas Wolfe, Jean Toomer, Flannery O'Connor and William Faulkner.
Book you've faked reading:
I'm glad you only asked for one book because there are actually several dozen.... The summer of 2011 was supposed to be my summer of "Books I Haven't Read or Books I've Lied About Reading," but I managed only to read a couple before moving on to books I found more interesting. But that summer I actually read Winesburg, Ohio by Sherwood Anderson, which I loved. But the book I've faked the most is probably Herman Melville's Moby Dick. Here I'll attempt to quote Jerry Seinfeld: "It's like the sun. I look long enough to get a sense of it, and then I look away." I bet I just offended a lot of literary folks out there.
Book you're an evangelist for:
Over the past year, I've been an evangelist for two books: Chad Harbach's The Art of Fielding and Karl Marlantes's Matterhorn. As a reader, I'm someone who reads for a sense of place and I'm interested in how that place affects characters. While these books are very different--The Art of Fielding takes place on a small college campus and Matterhorn in the jungles of Vietnam--their settings were both very real to me, and as a result, the characters were very real as well. I missed them when the books were over.
Book you've bought for the cover:
One book was The Selected Works of T.S. Spivet by Reif Larsen. I bought it for the front cover, the back cover and all the pages in between; it's beautiful. Another book was The Book of Basketball by Bill Simmons. The cover said "basketball" and "Bill Simmons," so I bought it. It's fascinating.
Book that changed your life:
Toni Morrison's Song of Solomon really changed my life. I read this book the summer after my freshman year of college when I was going through a particularly difficult time. I read it in just a couple of days, and when I finished I immediately read it again. In that novel, Morrison creates a palpable world and peoples it with characters you come to know and believe in as if they exist outside the book. I was so thankful that she gave me refuge where I could hide from my own world during that time. It made me want to be a writer so I could offer people the same thing.
Favorite line from a book:
The final line of Thomas Wolfe's Look Homeward, Angel:
"Yet, as he stood for the last time by the angels of his father's porch, it seemed as if the Square already were far and lost; or, I should say, he was like a man who stands upon a hill above the town he has left, yet does not say 'The town is near,' but turns his eyes upon the distant soaring ranges."
That line changes my life every time I read it.
Book you most want to read again for the first time:
One is Bobbie Ann Mason's In Country. I'm a child of the 1980s, but at the time I wasn't quite old enough to be aware of the societal and cultural repercussions of the Vietnam War. This book made both of those very clear to me. And the final scene? While reading that I was sitting by a pool with my mother-in-law in Las Vegas. I was weeping uncontrollably, but I kept trying to hide it. She was like, "What's wrong with you?" I think I told her I had sunscreen in my eyes. And then I kept weeping.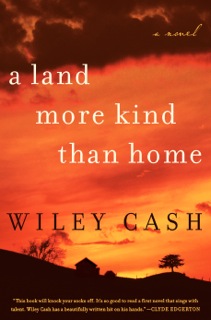 Your feelings on your book jacket:
I absolutely love my book jacket, and if I ever have the chance to meet Mary Schuck, the designer, I'm going to buy her a beer or some flowers or a big cake that says, Thank You! I've heard horror stories about authors hating their covers, and I was nervous that one day I'd be telling a similar story. After my editor called and said he was e-mailing the jacket to me, I got off the phone and went into the kitchen and knocked back a beer before checking my e-mail with shaking hands and a pounding heart. Turns out I should've saved that beer to celebrate. A friend of mine said, "Your book jacket makes me feel homesick and scared at the same time." That's exactly how I want readers to feel after they've finished A Land More Kind Than Home, so I suppose William Morrow got the design just right.
Book Review
Fiction

Equal of the Sun
by Anita Amirrezvani

What Dies in Summer
by Tom Wright
Inside
by Alix Ohlin
Her Highness, the Traitor
by Susan Higginbotham
So Far Away
by Meg Mitchell Moore
Mystery & Thriller

Kingdom of Strangers
by Zoe Ferraris
Dead Scared
by S.J. Bolton
Science Fiction & Fantasy
Amped
by Daniel H. Wilson
Biography & Memoir
Full Body Burden: Growing Up in the Nuclear Shadow of Rocky Flats
by Kristen Iversen
Essays & Criticism
Loaded Words
by Marjorie Garber
Children's & Young Adult
Shadow & Bone
by Leigh Bardugo
I, Too, Am America
by Langston Hughes , illus. by Bryan Collier
Keep Holding On
by Susane Colasanti
--- SPECIAL ADVERTORIAL OFFERINGS ---

The Neptune Challenge


by Polly Holyoke


Dear Reader,

When the sea has become humankind's last hope, a group of teens fights to survive beneath the waves. I've always LOVED reading stories about quiet kids who become heroes. So In The Neptune Challenge, I continue the story of Nere Hanson, a shy girl who is brave, can talk to dolphins, and definitely gets to save the day!

If you like stories about courage, friendship and adventure, you'll love The Neptune Challenge.

Visit www.pollyholyoke.com to enter to win a signed copy AND a dolphin necklace/bookmark.

Polly Holyoke

THE NEPTUNE PROJECT
Texas Bluebonnet Award 2014-15 Master List
Maryland Black-eyed Susan Book Award Nominee
Bank Street's 2014 List of Best Children's Books





PUBLISHER: Disney/Hyperion

PUB DATE:
May 19, 2015

AGE RANGE: 10-14

GRADES: 4-8

TYPE OF BOOK: Middle-grade fiction

ISBN-13:
978-1484713457

PRICE: $16.99
Alchemy's Daughter


by Mary A. Osborne


Dear Reader,

In medieval San Gimignano, seventeen-year-old Santina apprentices to Trotula, the village midwife. Some say she is victim of the midwife's spell, but Santina is determined to follow in Trotula's footsteps even as calamities strike. Kirkus says, "…this well-researched story incorporates historical information about medieval alchemy, midwifery, and the conflict between science and superstition..."

Email me at mary@maryaosborne.com for a chance to win a signed copy of the Alchemy's Daughter.

Warmly,

Mary A. Osborne
maryaosborne.com





PUBLISHER: Lake Street Press

PUB DATE:
May 15, 2015

AGE RANGE: 14 to adult

GRADES: 9 to 12

TYPE OF BOOK: YA historical novel

ISBN-13:
978-1-936181-17-9

PRICE: $16.95
Wet Hen: A Short Vowel Adventure


by Molly Coxe


Dear Reader,

Thank you for your enthusiasm for the first two Short Vowel Adventures, Rat Attack, and Princess Pig. Here's Wet Hen, a sweet spring story featuring the "short o" sound, endless rain (Think Noah's Ark starring a broody Hen and her best friend, Ben, a cheerful fieldmouse), rainbow-colored eggs, and (after 21 days afloat in the tiny hen house) baby chicks (also in rainbow colors)!

Email me at bravemouse1@gmail.com to enter to win a signed copy.

Happy Spring,
Molly Coxe





PUBLISHER: BraveMouse Books

PUB DATE:
Available now

AGE RANGE: 5 - 7

ISBN-13:
ISBN 9781940947303

PRICE: $3.99