Shelf Awareness for Readers for Tuesday, August 23, 2011

Bookselling News
A Punch Card for the Bookish
Most consumers have wallets stuffed with discount and punch cards--but for readers, a recent promotion in Minnesota's Twin Cities offers something new and tempting: a bookstore gift card!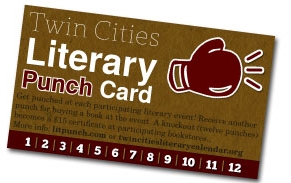 The Minneapolis Star Tribune reported that the Twin Cities Literary Punch Card will be launched September 14. The premise is simple: "Attend a literary event, get a punch. Buy a book at an event, get a second punch. Fill your card--12 punches--get a prize, a $15 gift card to use at any participating bookstore."

The catalyst for this idea was the sometimes anemic attendance figures in an area that is "awash in literary events almost every day of every week of every month--readings, signings, book clubs, launch parties. So the folks from Milkweed, Graywolf Press, Coffee House Press, Rain Taxi Review of Books and the Loft Literary Center got together to figure out how to attract larger crowds," the Star Tribune wrote. Thus far, three bookstores are on board: Magers & Quinn, Common Good Booksand Micawber's.

Not every literary event will earn a punch. To qualify, events must be free, include a visit from an author and be hosted by one of the sponsoring organizations or bookstores. We think this is a punch-y idea that could easily be duplicated in other cities—perhaps your own?
Book Candy: Celeb Libraries; America's Most Literary Street
Celebrities who are also readers have a slight advantage over the rest of us, in that they, "often making tens of thousands of dollars for just showing up somewhere, have no such financial restraints and may indulge themselves with those epic home libraries the rest of us can only dream about." Presented as evidence by AccreditedOnlineColleges.com are "20 celebrities with stunning home libraries."
----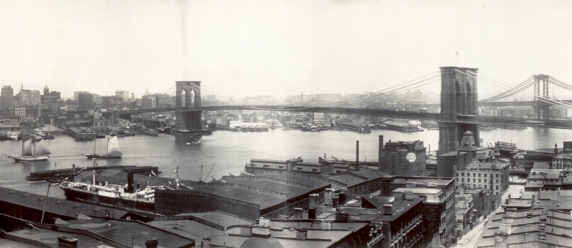 In a photo slide show, the Daily Beast made its case for Columbia Heights as "America's most literary street," noting that it "is the closest street to the water in the quiet, leafy Brooklyn Heights neighborhood, and the authors who have lived there, if they were lucky, enjoyed commanding views of Manhattan's skyline across the East River."
Great Reads
Further Reading: Yossarian Slept Here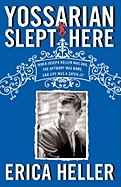 Yossarian Slept Here: When Joseph Heller Was Dad, the Apthorp Was Home, and Life Was a Catch-22 (reviewed below) by Erica Heller is a new memoir by a daughter about (at least in part) her famous author father.
Erica Heller's book isn't an elegy for a famous family member, but a memoir that integrates family experience with personal recollection. Of course, every writer has a different reason for writing memoir--even those with famous author fathers. If you like Yossarian Slept Here, here are five more memoirs by daughters of famous authors: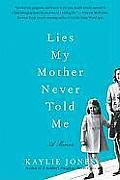 Lies My Mother Never Told Me by Kaylie Jones, about her father James Jones (From Here to Eternity, The Thin Red Line) deals with fame and alcoholism, making the PW review that called it "absolutely addictive" intensely ironic.
The Children of Lovers by Judy Carver is subtitled "A Memoir of William Golding by His Daughter, Judy." In Carver's recollection, Golding, acclaimed author of Lord of the Flies, changed drastically as she grew up and he gained money and fame.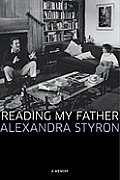 Reading My Father by Alexandra Styron pays particular attention not to William Styron's considerable body of work, but to the lifelong depression that affected everyone around him and his ability to continue writing.
My Father Is a Book by Janna Malamud Smith tells less about its author than about its author subject. Malamud Smith wants to understand Bernard Malamud, and in "reading" him she gets very close, combining compassion with beautiful prose.
Home Before Dark by Susan Cheever is "a biographical memoir," in which Cheever uses letters, journal entries and other ephemera to paint her own portrait of her father, John Cheever--not stinting about his dark impulses.
The Writer's Life
Portrait of the Artist: Neil Abramson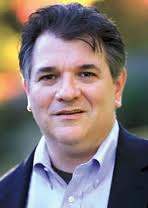 Neil Abramson spent most of his adult life either studying or practicing law, and he spent a good chunk of that life without any pets: "Not even a goldfish," he said, laughing. Yet Abramson has just published his first novel, Unsaid (Center Street Books)--and it's about how people communicate with each other and their beloved animals.
Speaking from his Hudson Valley home, which he shares with his wife, two children and numerous animals, Abramson acknowledged that there's a big juxtaposition between his old life and new life. "When I married my wife, who's a veterinarian, I went from living in a small, dark New York City apartment with a dead cactus to living in a house filled with dogs, cats, even a pig--all rescue animals!--and it was a huge change for me. It took me a while to adjust to having responsibilities for other lives, when I had never before had to be home taking care of something or somebody."
But Abramson's commitment to animal rights came long before his commitment to caring for any. "Right around law school, I got involved in doing animal stuff," he said, explaining that he'd always been interested in the legal notion of externality, meaning a person or entity who only has protection under the law because somebody else is caring for them in some capacity. "When I got involved in animal rights law in the late 1980s, a lot of this stuff was just coming to the forefront and it was an exciting time, with lots of arguments and decisions."
Abramson and his wife, Amy, are committed to animal rights in many aspects of their lives. "Once you get involved in factory farming and see the abuses that happen, it's hard to continue eating meat," he said. "Amy's been a vegetarian for her entire life, and I try to eat a mostly vegetarian diet, but sometimes eat wild fish. We each draw our lines in different places. We don't live the perfect, vegan, animal-free, no-leather life. We just do the best we can."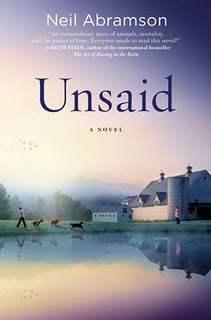 The impetus for Unsaid came out of a health scare that Amy had early on in the couple's relationship, before they married. "Amy was worried about what would happen to her animals if she were gone--and she was also worried about whether or not she'd made mistakes over the years in her role as a veterinarian, in choosing the precise moment when an animal will die. Veterinarians are supposed to heal and save, but so often they are called upon to end lives. What is the right time? What would be waiting for her after death if she had made mistakes?" Abramson recalled.
He decided that rather than try to speak his feelings about her fears, he would try to create a world that would express them. "I wanted to let her know that it's okay. As long as you care, as long as you feel for those creatures, as long as there's a meaning to their existence--you've done the right thing."
Abramson's novel is about Helena, a veterinarian who has died of breast cancer, but whose consciousness lives on and allows her to watch her husband, David, become an impassioned advocate for a chimpanzee's rights. "So much goes unsaid between husbands and wives," the author noted. "But even more can go unsaid between humans and animals. I don't really understand the science of how communication happens between our species, but I did a lot of reading, and I had a terrific science consultant for the book, Dr. Barbara J. King from the College of William and Mary."
The toughest message to communicate, for someone who has animals, is the proper time to let go. "One of the things I wanted to have Helena show that comes from Amy is our strange modern contradiction about vets. You've lived with this creature for years and been so emotional about it, but then you want a medical professional to take over this important decision and make it for you. It's a way of abdicating responsibility."
So what did the veterinarian in Neil Abramson's life think about Unsaid? "Amy's reaction after reading the manuscript was to cry for three days. Then she said 'Don't ever make me read that again.' She was very moved."
Other readers have been, too. "I'm told never to read my reviews, but I do, and I'm particularly interested in those from readers, not critics. One of them commented on the theology of the book and I thought, hmmm... I was not aware there was one! However, on further thought, I realized that there's a character who says the language of God is juxtaposition. The real evidence of a higher being is dissonance and difference."
Kind of like the difference between an old life and a new life? Abramson laughed. "Exactly. Exactly! I'm going to keep writing because it's all about communicating with other people, and showing them what I've learned. I write about what I care about." --Bethanne Patrick
Editor's Note: Neil Abramson has founded the Finally Home animal sanctuary organization for southern New York State; a portion of the proceeds from the sale of Unsaid is donated there.

Literary Lists
A Book List for On-the-Go Families
Positing that "the right book can open up a whole new world of scientific information," MSNBC's Cosmic Log recommended 10 books for a summer field trip, which offer "a little science, a little travel, and little or no math required."
Mixed Media
Pirates of the Bookstore Cafe
Traditional print book piracy. The Daily What caught these two Barnes & Noble patrons "pirating" cookbooks in the store's café.
Book Review
Fiction
The Language of Flowers
by Vanessa Diffenbaugh
Bed
by David Whitehouse
Mystery & Thriller
The Keeper of Lost Causes
by Jussi Adler-Olsen , trans. by Tiina Nunnally
The Killer Is Dying
by James Sallis
Science Fiction & Fantasy
Blood Bound
by Rachel Vincent
Nonfiction

Cocktail Hour Under the Tree of Forgetfulness
by Alexandra Fuller
Pinched: How the Great Recession Has Narrowed Our Futures and What We Can Do About It
by Don Peck
It's All About the Dress: What I Learned in Forty Years About Men, Women, Sex, and Fashion
by Vicky Tiel
Yossarian Slept Here: When Joseph Heller Was Dad, the Apthorp Was Home, and Life Was a Catch-22
by Erica Heller
One Minute Mindfulness
by Donald Altman
Children's & Young Adult
This Dark Endeavor: The Apprenticeship of Victor Frankenstein, Book One
by Kenneth Oppel
Now Playing: Stoner & Spaz II
by Ron Koertge