Shelf Awareness for Readers for Friday, May 11, 2012

Book Candy
Book Map; Furniture; Drinks; Canterbury Tales
The website for the Book Depository features a map that "shows who bought what, where, just now. The window of the map moves to reach the most recent purchase, zooming back and forth from Germany to Singapore to the United States to Australia to Norway. In each location, the title pops up. It's hypnotic," Jacket Copy reported, calling the map "inherently interesting to people who like books."
---
Bookcase of the day: "Stack it high" advised Lovely Listing in its celebration of "the glory of a lofted space! So much light! so much vertical wall space!"
---

"With a Bibliochaise, designed by nobody&co in Milan, Italy, your books are as close to your reading chair as they possibly can be. In fact, the shelves are part of the chair," OregonLive.com noted, adding helpfully that "pricing starts at about €4,400 ($5,756)."

---

Alcohol consumption on HBO's Game of Thrones series is the gift that just keeps on giving on the Internet. The latest version imagines what labels would look like "if the Game of Thrones Houses brewed artisan beers," Flavorwire noted.

---

And just to keep the booze flowing, theKitchn.com featured "Literary Drinks: 10 Famous Fiction Writers and Their Cocktails."

---

Canterbury Tales 2.0: a multimedia pilgrimage. The Guardian reported that 24 modern-day pilgrims, inspired by The Canterbury Tales, "braved piercing April 'shoures' to undertake a full-scale re-enactment Chaucer's masterpiece, acting out the tales as they travelled on foot to Canterbury in aid of the National Literacy Trust."
The Writer's Life
Ann and Jeff VandeMeer: Partners in Weird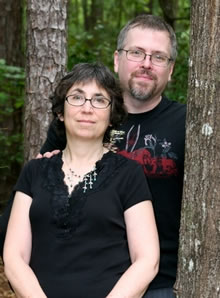 Editor and publisher Ann VanderMeer and her husband, editor and author Jeff VanderMeer, are the editors of The Weird: A Compendium of Strange and Dark Stories, a 1,152-page, almost four-pound book just published by Tor.
Tell us a little about who you are.
Ann: I started out my editing career as a reader. I grew up with all the Wizard of Oz books, which is its own kind of weirdness, and I've always tended to love that type of fiction. Back in the late '80s, I became the publisher/editor of my own magazine, The Silver Web, and about six years ago I was asked to step in and be the fiction editor for Weird Tales, which is the oldest fantasy magazine in the world, started in 1923. My love of weird fiction has continued ever since.
Jeff: I started writing fiction when I was in my early teens and started editing literary and poetry magazines. The fiction I was writing became categorized as dark fantasy or weird fiction. But when I was writing it, I just thought of it as fiction! As both an editor and a writer, then, I went through all these works that, to me, fit together but they were divided in ways that I felt were artificial. Over time, my editing projects got more ambitious. I won a World Fantasy Award in 2003 for an anthology series called Leviathan. At the same time I had a book out called City of Saints and Madmen, which was picked up as part of the New Weird movement; I also had a story in it that won a World Fantasy Award. Things just kind of snowballed from there.
We started editing anthologies in 2007 because we wanted to join forces there; it made more sense to do it that way.
Ann: We've done a lot of anthologies together, some of them reprint anthologies and some original fiction anthologies. We edited an anthology of pirate stories called Fast Ships, Black Sails, and we did an anthology called Steampunk, and of course this current monstrosity.
What is "weird fiction"?
Jeff: We basically found two strands of "the weird." One is the one most people think of when they think of the weird tale, the one defined by H.P. Lovecraft: a story that has a supernatural element but doesn't fall into the category of a traditional ghost story or gothic tale, or--especially in the modern age--a tale that doesn't include vampires or werewolves and zombies, because they have become so archetypal that they are fully defined, they no longer represent the unknown.
The other strand we found was Kafka-esque weird. The difference here being that in the first type, the character comes into contact with the weird or whatever supernatural elements. With Kafka, you're already in the weird, you're living it.
Ann: A short answer can be "when the strange unusual supernatural and bizarre invade into your normal daily life, with the unknown and in many cases the unknowable."
Jeff: There's also a sort of beauty and discovery mixed in with the horror, which can produce an ecstatic or transformative moment. These tales may include something that's scary or very disturbing, but the point isn't usually the scare itself.
What stories can readers look forward to in this anthology that piqued your own personal interest in the weird?
Jeff: We actually published several of them in this book, since many of these have been out of print for over 40 years. For example, Jean Ray's "The Shadowy Street" and "The Mainz Psalter," which is a major achievement, since he needs to be reclaimed, as he's considered in France to be the equal or better than Lovecraft.
It's so excruciating to pick, since there's so many favorites in here. People don't know Ben Okri writes some amazing supernatural short stories. People don't know Amos Tutuola, who wrote The Palm-Wine Drinkard. There's an amazing excerpt from that book in our anthology, a phantasmagorical piece that's like nothing I've ever read before. I love the story by Clive Barker, and then there's "The Brotherhood of Mutilation" by Brian Evenson, who is one of America's best writers of weird fiction. There's an amazing Kafka-esque story in there by Leena Krohn called "Tainaron: Mail from Another City," which is just one of the most amazing things I've read.
Ann: People think of Leonora Carrington as being a surreal artist, but they don't realize that she was also a writer as well; we've got one of her stories in there from the early '40s.
I grew up as a huge Twilight Zone fan, and there was this one episode called "It's a Good Life." It was my favorite, even though it scared me, and I loved it so much. Growing up, you don't realize that someone also had to write it. As Jeff and I were combing through stories for this book, I came across the original story written by Jerome Bixby. I was really surprised by how much that story creeped me out--the way this writer was able to convey this feeling really impressed me, even as a fan of the TV episode.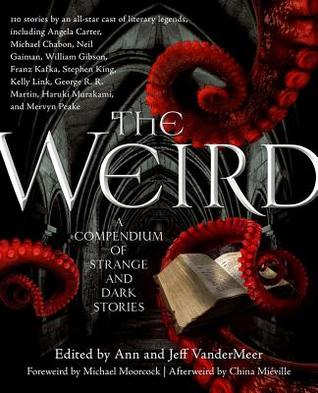 As big as the book is (110 stories) and as many stories are included within, how many aren't included that should be?
Jeff: There are a few things we couldn't get permission for. At one point for one story, we were having to educate monks in a monastery who owned the e-book rights about what the Internet was. In another case, we were told that the person who represented the estate was in a coma and that there was no provision for the rights; she would have to pass away or come out of the coma for us to work out the rights to the story. We even had a plan to involve a friend of ours who was in a Mexican circus. Our friend had a horse, and was going to ride down the coast of Mexico to secure the rights to a story. Luckily, the author's agent came through at the last second. Multiply this by 116 stories by authors who are fairly obscure, and you get a sense of how complicated the rights issues were for this book.
Ultimately, the stories like this were few, and considering the amount of stories we could include, we're very happy with the result.
Ann: We started a website called Weird Fiction Review where we're publishing some additional fiction and nonfiction, essays and book reviews and movie reviews and all kinds of things related to the weird. That was our way of expanding the book, so to speak.
What's next for you both?
Ann: I'm just finishing up Steampunk Revolution, a reprint anthology with a handful of original fiction in it that I'm really excited about. I'm also hoping to do an anthology for the 90-year anniversary of Weird Tales.
Jeff: I'm working on a book for September called Wonderbook: The Definitive Illustrated Guide to Creative Writing. It's about finding a new visual language for teaching creative writing--plot structures, diagrams, things that deal with the texture of fiction presented in an illustrated, artistic way.
I've also just finished another novel, and a couple more coming down the pike, now that I have some time. Doing a lot of short fiction and nonfiction as well.
Ann: We're also doing a couple of anthologies that we can't talk about yet.
Jeff: We'd like to do a big anthology on dark fantasy...
Ann: ...because we're insane. --Rob LeFebvre, freelance writer and editor
Inklings
If You Love This Book, Put It Down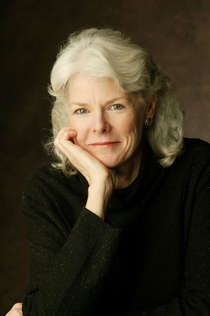 When people ask me to name books that have changed my life, Pilgrim at Tinker Creek is always first on my list. I read it in my early 20s, before anyone knew who Annie Dillard was. Then she won the Pulitzer Prize and everyone knew her, but I never shook the feeling that she spoke to me first.
Whether she was showing me a cedar tree on fire with light or a young muskrat floating on his back in a stream, I saw those things as I had never seen them before. Her prose was so rapturous that the temptation was to forsake the world for her telling of it, but she would not let me. If you love this book, she said between the lines of every page, put it down. You must find the light in your own tree.
That was the truth that changed my life. Until then, I thought the best books were those that completely satisfied. Like good hosts, they invited me in, supplied all my needs while I was with them, and when we were done they let me go without too much talking at the door.
After Pilgrim at Tinker Creek, I decided the best books are those that refuse to satisfy. They don't want to meet my needs; they don't even care if I am happy with them. What they want is to enlarge my world, even if that means sending me away hungry for my own encounter with what they have brought to life.
A Zen teaching reminds students that a finger pointing to the moon is not the moon. If you want to see the moon, look past the finger. If you love this book, put it down.
--Barbara Brown Taylor, author of An Altar in the World: A Geography of Faith and Leaving Church: A Memoir of Faith, both from HarperOne
Literary Lists
Most Influential Books; 10 Books to Reread
SuperScholar compiled a list of the "50 most influential books of the last 50 (or so) years" and promised "if you read every book on this list, you will know how we got to where we are today. Not all the books on this list are 'great.' The criterion for inclusion was not greatness but INFLUENCE."

---

Noting that "sometimes, it just makes sense to reread a book that you loved instead of spending money on a new book that may turn out to be disappointing," the Express Tribune suggested "10 books to reread this summer."
Book Brahmin
Book Brahmin: Andrew Fukuda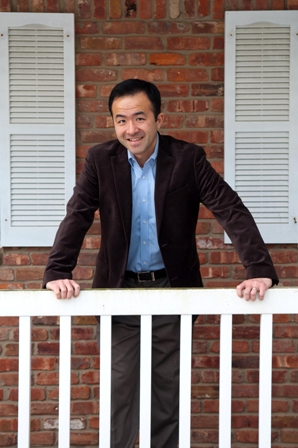 Andrew Fukuda was born in Manhattan and raised in Hong Kong. After earning a bachelor's in history from Cornell, he worked with immigrant teens in Manhattan's Chinatown. That experience led to his debut novel, Crossing, which was selected by ALA Booklist as an Editor's Choice. Before becoming a full time writer, Fukuda was a criminal prosecutor for seven years.

His second novel, the dystopian thriller The Hunt, was just published by St. Martin's Press. For more on The Hunt, check out our Maximum Shelf.
On your nightstand now:
The Snow Child by Eowyn Ivey.
Favorite books when you were a child:
Charlie and the Chocolate Factory by Roald Dahl; Watership Down by Richard Adams.
Your top five authors:
Stephen King, David Guterson, Jhumpa Lahiri, John Burnham Schwartz, Ernest Hemingway.
Book you've faked reading:
Wide Sargasso Sea by Jean Rhys. I was simply too busy that semester sunbathing on the quad and playing intramural sports. Somehow I was able to write a paper on the book overnight; I grabbed random quotes and wrapped them around a completely random theory. The professor gave me an A+.
Book you're an evangelist for:
Never Let Me Go by Kazuo Ishiguro. Stark and disquieting, it slayed me inside with its haunting gracefulness. The last paragraph devastated me, and still does with every rereading.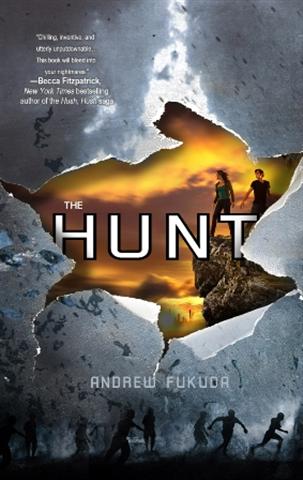 Book you've bought for the cover:
Jim the Boy by Tony Earley. Go ahead, take a look at the cover, and tell me you don't smell the sweet mountain air, hear the laughter of children soughing in the grass, feel the summer sun burnishing youthful hope into your skin. But the cover evokes childhood, like the language of the book itself, with a deceptive simplicity.
Book that changed your life:
The Bible.
Favorite line from a book:
"They wept together, for the things they now knew." From Interpreter of Maladies by Jhumpa Lahiri. A sentence that captures--with painful precision--the separation of intimacy, the intimacy of separation.
Book you most want to read again for the first time:
The Murder of Roger Ackroyd by Agatha Christie. I read it when I was still a naïve, thin-skinned 10-year-old. The book's ending floored me; I couldn't move for an hour. But now, after reading a few too many novels with a Sixth Sense-like plot twist, I'm too hardened and calloused to be caught by surprise anymore. Somebody sandpaper my skin down, erase my reading memory and put The Murder of Roger Ackroyd back in my hands again, please.
Book Review
Fiction

Home
by Toni Morrison
The Right-Hand Shore
by Christopher Tilghman
Southern Charm
by Tinsley Mortimer
The Courtesan's Lover
by Gabrielle Kimm
Mystery & Thriller
The Uninvited Guests
by Sadie Jones
Science Fiction & Fantasy
Windeye
by Brian Evenson
Silence
by Michelle Sagara
Biography & Memoir
A Queer and Pleasant Danger
by Kate Bornstein
Over Time: My Life as a Sportswriter
by Frank Deford
History

Engines of Change
by Paul Ingrassia
Children's & Young Adult

A Hero for WondLa
by Tony DiTerlizzi
My Dad Is Big and Strong, but...: A Bedtime Story
by Coralie Saudo , illus. by Kris Di Giacomo
Struck
by Jennifer Bosworth
--- SPECIAL ADVERTORIAL OFFERINGS ---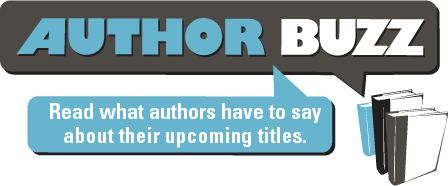 Dear Reader,

When I first set up a "demon graveyard," of sorts, for my Demonica/Lords of Deliverance series, I never imagined that the characters who populated it would become so central to the series. But here we are, following up the Grim Reaper's story with that of his right-hand man, Hades.

Dark, lethal, and a little playful, Hades will take a beautiful, brave fallen angel on a journey that will lead them both to danger and, possibly, love.

Please write to 1001DarkNights@gmail.com to win one of five copies.

http://www.1001darknights.com/authors/2015-books/larissa-ione-hades/




Publisher: Evil Eye Concepts, Inc

Pub Date: 5/26/15

ISBN: 978-1-940887-54-8

List Price: $2.99