Image of the Day: Sholem Aleichem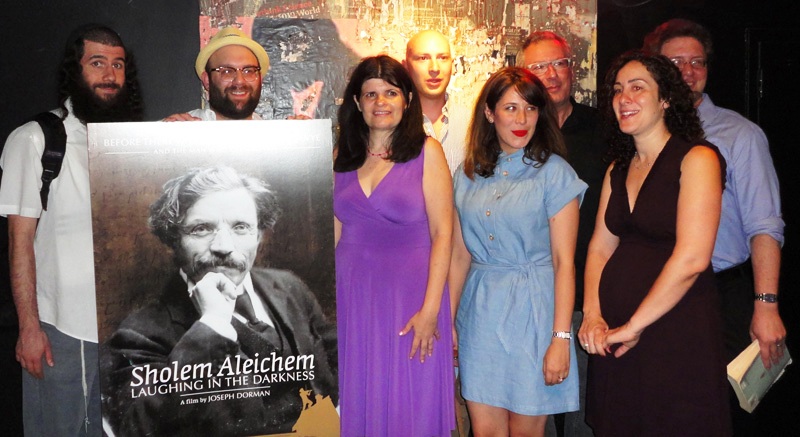 The Jewish Book Council and Jewcy magazine hosted a reception at Le Poisson Rouge in New York City Wednesday night to celebrate the upcoming release of Sholem Aleichem: Laughing in the Darkness, a documentary about the great pioneer of Yiddish literature. Although he is best known to American audiences, if they've heard of him, for creating the stories that inspired Fiddler on the Roof, he also wrote many other novels and stories. Jason Diamond, the editor-in-chief of Jewcy, observed that Aleichem was sometimes called "the Jewish Mark Twain," and suggested that if Mark Twain could have a resurgence in popularity, "maybe it's time Sholem Aleichem got a second glance, too." Some of the guest authors paid tribute by reading excerpts from classic stories such as "Pity for the Living" or "A Page from the Song of Songs," while others talked about their grandparents, who were of Sholem Aleichem's generation and emigrated to New York City around the same time, and there was also a robust selection of Yiddish curses (in translation), ranging in severity from "Leeches should drink him dry!" to "God should visit upon him the best of the Ten Plagues."
Sholem Alecheim has a one-week limited engagement at the Lincoln Plaza Cinema in Manhattan beginning July 8. You can watch the trailer here. --Ron Hogan
Pictured: (l.-r.) Matthue Roth, Jason Diamond, Laurie Gwen Shapiro, Adam Wilson, Rachel Shukert, Jonathan Wilson, Joanna Smith Rakoff and Jeremy Dauber.
---

---