Indies 'Provide Service to a Market of Intelligent People'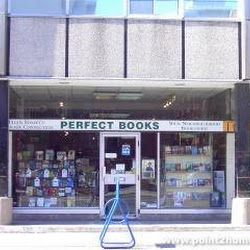 "Every independent bookstore is facing challenges right now. It affects your marketplace, but it doesn't have to kill you. You don't open a bookstore to make a million dollars.... I don't think customers should have to rescue us. It sounds too desperate. I don't think we're in that position and I don't think that attitude is helpful.... People still really like to hold a book in their hands. We provide service to a market of intelligent people. Even with e-readers and competition from the big chains, we'll do OK."
--Pat Catven, former bookshop owner and now a manager at Canadian indie
Perfect Books
in Ottawa, from a
Citizen article
headlined "Independent bookstores say news of their deaths greatly exaggerated."
---

---