Welcome, Cris Cooke!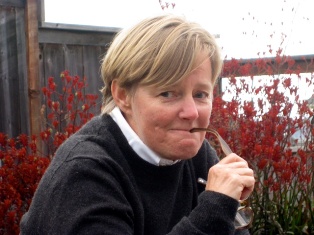 Effective today, Cris Cooke joins
Shelf Awareness
as director of business development. Among her responsibilities are the bookseller newsletter platform and ad sales to independent and smaller publishers and to other companies.

Cris fell in love with publishing during a summer publishing course and began her career as a bookseller at the legendary Shakespeare & Co. on the Upper West Side in Manhattan, where frequent lavish tips from neighborhood resident Mick Jagger allowed her to play Oliver Twist at Zabar's. She was most recently a rep and sales manager at John Wiley & Sons.

Cris is a biography addict who also loves to read history and historical fiction. We're happy, too, that she is a Mad Men aficionado and a big sports fan, particularly of the New York Giants.

Jenn and John met Cris for the first time at the Pacific Northwest Booksellers Association annual trade show in 2005, when she was so gung-ho about Shelf Awareness that it felt she was selling us on the idea of her taking ads in the newsletter. She has continued to dazzle us ever since.

Cris lives in Los Osos, Calif., and can be reached at cris@shelf-awareness.com and 805-305-1867.


---

---