Illustrator Jane Dyer Recovering from Attack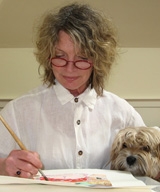 Award-winning children's book illustrator Jane Dyer suffered a brutal attack July 26 in her Cummington, Mass., home, where a 14-year-old male gained entry and struck her violently with a shovel. The Daily Hampshire Gazette reported that Dyer "continues to recover" from the beating, "which left her with blunt-force injuries and a wound to her head requiring about five surgical staples that were removed Monday afternoon."

Dyer "has no idea why the juvenile entered the house nor why he attacked her, except that he seemed to think she was someone else," the Gazette noted. "She said nothing was taken from the house and robbery didn't seem to be a motive."

Currently under arrest, the teen is charged with home invasion, assault and battery with a dangerous weapon on a person 60 or over, and assault to murder a person 60 or over. He pleaded not guilty and is being held on bail. The District Attorney's office issued a statement Monday extending sympathy to Dyer and sending "wishes for a speedy recovery," the Gazette wrote.

---

---