Little Boy Blue: A Puppy's Rescue from Death Row and His Owner's Journey for Truth
by

Kim Kavin

When Kim Kavin's beloved dog Floyd died in 2010 after 15 years of devoted companionship, she did what many dog lovers in the digital age would do. First, she grieved. Then, when she realized how lonely her other dog, Stella, seemed without Floyd, Kavin logged on to Petfinder.com to search online profiles of adoptable rescue dogs in hopes of finding a new puppy to add to her family. An adorable brindled puppy with floppy ears and soulful eyes captured Kavin's heart. Although his location was given as Pennsylvania, a short journey from Kavin's home in New Jersey, she learned that he was actually one of a number of shelter dogs being transported from North Carolina to homes in New England. One five-page adoption application, one half-hour interview and $400 later, Kavin brought her puppy home, named him Blue, and expected to live happily ever after with him. However, she had one question: Why would such an adorable and loving puppy have such a hard time getting adopted that he had to cross several state lines to find a home?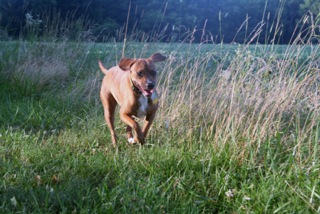 When Kavin found a rash of tiny hairless spots beneath Blue's fur and a brief mention of ringworm--a highly contagious and obnoxiously itchy fungus that also causes athlete's foot--in Blue's paperwork, her veterinarian urged her to contact the rescue organization for more details. While the rescuer had no helpful information about the rash, which no vet had officially diagnosed, Kavin did pick up snippets of information that horrified her: that the rescuer had treated Blue's "ringworm" with bleach and Monistat, that Blue had also seemed to have coccidia and, most shockingly, that he came to the rescue from a pound with a 92% kill rate for dogs, a pound that euthanized dogs via gas chamber.
Alarm bells went off in Kavin's head. Not only did she find the rescuer's description of Blue's health history sketchy, she had never heard of gas chambers except in connection with genocide. Spurred on by journalistic curiosity and her desire to know her dog's origins, Kavin decided to go to the Carolinas and piece together Blue's history. What she saw shocked her. From shelters that kill 95% of the dogs that come through their doors to citizens who allow their dogs to breed continuously to a rescue worker with the home environment of an animal hoarder, Kavin had walked into a dog lover's most bewildering nightmare. However, within the madness, Kavin also found hope.
Drawing from interviews with animal control directors glad to tell their side of the story, dog rescue groups desperate to stop the flood of death in shelters across the country, a committed veterinarian who runs a discount spay/neuter practice out of an RV retrofitted to serve as an operating room and many others, Kavin takes readers on a tour that encompasses both sides of the animal overpopulation crisis. Along the way, she encounters a well-intentioned public with no idea their towns even have gassing pounds, finds shelters that have improved their images and adoption rates with simple changes, and, ultimately, faces a crisis of conscience over a group of dogs that are out of the shelter but not out of danger. Throughout her investigation, Kavin continually returns to thoughts of Blue, who grows into a happy, sweet-natured pet, her best comfort. She finds rays of light in the people who devote themselves to saving as many dogs as possible and educating the public on the benefits of spaying and neutering their companion animals; in a no-kill Massachusetts shelter that models what shelters could be in a better future; and in herself, as she joins a rescue network as a foster home, where dogs rescued from the pound can stay in safety until permanently adopted.
While sometimes heartrending due to the nature of the subject, Kavin's research also turns up unexpected moments of joy and clarity. If our society is educated about the conditions created by animal overpopulation, if we are proactive about controlling breeding both in the industry and in our own backyards, and if we give rescue dogs the chance to join our families, the situation can be reversed.
A well-researched blend of investigation and personal journey, Little Boy Blue is a heart-stopping exposé no animal-lover should miss. --Jaclyn Fulwood
Barron's Educational Series, $22.99, hardcover, 9780764165269, available now
---

---