Shareholder Sues B&N Over SEC Investigation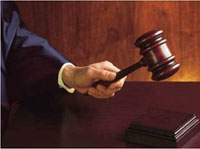 What may be the first of a series of shareholder lawsuits against Barnes & Noble over accounting issues has been filed in New York State Supreme Court. Bloomberg News reported that B&N shareholder David Shaev is asking the court to order B&N "to improve its corporate governance and internal procedures, saying the restatement and the accounting allegations are 'only two symptoms of a pervasive deficiency of internal controls.' "

Shaev continued: "Barnes & Noble has operated with deficient and inadequate financial reporting and inventory management systems since at least 2001. These systems do not adhere to industrywide best practices and company internal audits have repeatedly shown them to be unreliable and subject to manipulation."

Shareholder rights law firms had announced they were "investigating" B&N after the company disclosed earlier this month that the Securities and Exchange Commission is looking into its restatement of losses for two years and an ex-employee's allegation of improper allocation of IT expenses.
---

---