'What a Time to Be a Bookseller!'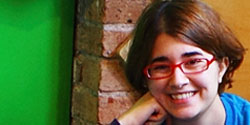 "The independent booksellers that survived the past decade realized that to make it, they must be tirelessly innovating, constantly engaging their communities and building their clientele, and offering an experience and expertise that cannot be found anywhere else. They've passed this knowledge down to the newest generations of booksellers, which has made the current independent bookselling community more engaged and vibrant than ever before....

"What a time to be a bookseller! But best of all, what a very wonderful time to be a book buyer."
---

---