'A Place for People to Read' in South Sudan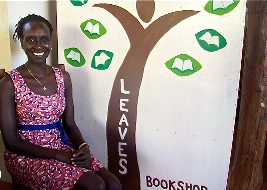 "Literacy rates are very low in South Sudan. It's to create a way for people to see that reading is a pleasurable thing; it's something that can give you some advantage personally and professionally....

"Most people do not read even if they want to read, because their houses are crowded, they don't have private space. Electricity is another issue. In Juba in the evenings, children gather around security guard compounds just so they can read and study. We'd love to be able to fill that gap in providing a place for people to read, whether for pleasure or for study."
---

---