Village Books/Paper Dreams Planning Second Store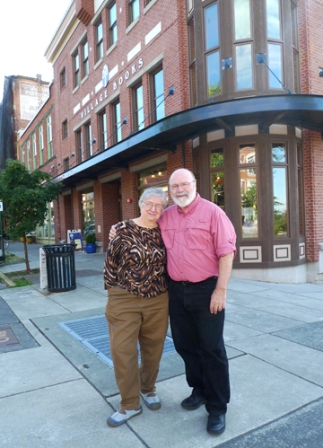 Dee and Chuck Robinson
Chuck and Dee Robinson, the owners of Village Books & Paper Dreams in Bellingham, Wash., are opening a second store, in Lynden, Wash., about 20 miles north of Bellingham, later this year. The new store will be smaller--around 3,000 square feet instead of Bellingham's 15,000--and be part of the historic Waples Mercantile Building, a multi-use structure that is undergoing extensive renovations.

The Waples Building has been empty since 2008, after a group of teenagers started a fire that burned away the structure's top story and gutted the interior, Chuck Robinson explained. When the building opens toward the end of the year, it will include a 35-room bike-themed inn, a specialty olive oil and vinegar store, a bakery and the new Village Books & Paper Dreams.

The store should be far enough away to avoid cannibalizing sales from the original store, and the inn should provide some turnover traffic on a regular basis, he added. It should also give the Robinsons a chance to see their northern Whatcom County customers more often. Remarked Robinson: "All that, and a moment of insanity, is what caused this to happen."

Ever since they successfully ran a holiday pop-up shop in a nearby mall some four years ago, Robinson continued, the pair have been looking for a location for a second store. At one point they considered opening a store much closer to Bellingham, but decided against it due to fears of the new store taking sales away from the original. The search, actually, had died down for around six months, until the Robinsons heard about the Waples project.

"It's in a little town, almost on the Canadian border," said Robinson. "There's a bit of tourism traffic, and the county fair is held there. This project popped up on our radar and looked exciting. We think the opportunity is there to do something that will pay off in the long run."

The space in the Waples Building has 18-feet high ceilings, exposed wood beams and six-inch-thick wood floors, which will help give the new store a slightly more rustic, woodsy feel. The biggest difference in terms of operations, meanwhile, is that the gift side and book side of the new store will be integrated from day one.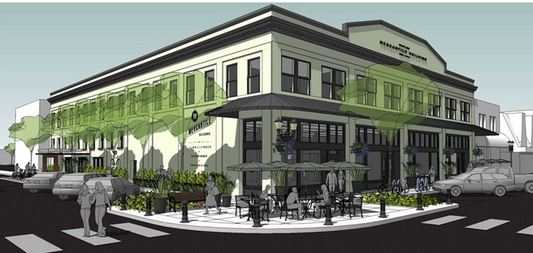 The Waples Building
"The original operated as two different stores for a long time, even though they were side by side," said Robinson. When he and his wife built their new building 10 years ago, they opened up the wall between the shops and did some inventory integration. About three years ago, they moved the cookbook section into the gift side of the store and have been gradually integrating more since then. "What we'll do with this store is from the get-go integrate the two parts more fully."

The new Lynden store, in fact, is not the first time that Chuck and Dee Robinson have experimented with expanding their business. In addition to the holiday pop-up shop that they ran a few years ago, they tried two different expansions, in the mid-'80s and then in the early '90s. Neither was successful--the former involved opening a store in a new shopping center after being heavily courted by a developer, and the latter involved opening a satellite book shop in a separate card and gift store--but the pair learned valuable lessons about what to do and what not to do when it came to expanding.

"We've learned enough to think that this was a really good idea for us," said Robinson.

Since the store isn't expected to open until November, Robinson and his team are just starting to plan how they'll they staff and manage the store. They're unsure yet if there will be a full-time manager in the Lynden store or if upper-level Bellingham staff will alternate between the stores. (Dee Robinson happily retired last summer.)

"It's a nice little town. I love riding my bicycle up there," mused Robinson. "Maybe I'll just bike there on a regular basis." --Alex Mutter
---

---