Wi12: Indies Forward Shares Steps for Taking Action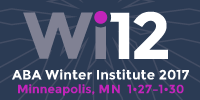 In an early-morning meeting on Monday at Winter Institute 2017--organized over the weekend by members of Indies Forward--about 50 booksellers gathered to brainstorm and share first steps for taking political action. Among the discussion leaders were Hannah Oliver Depp of WORD Bookstores in Jersey City, N.J., and Brooklyn, N.Y.; Lacy Simons, owner of hello hello books in Rockland, Maine; Angela Maria Spring, formerly of Politics & Prose in Washington, D.C.; and Anna Thorn, general manager at Upshur Street Books in Washington, D.C.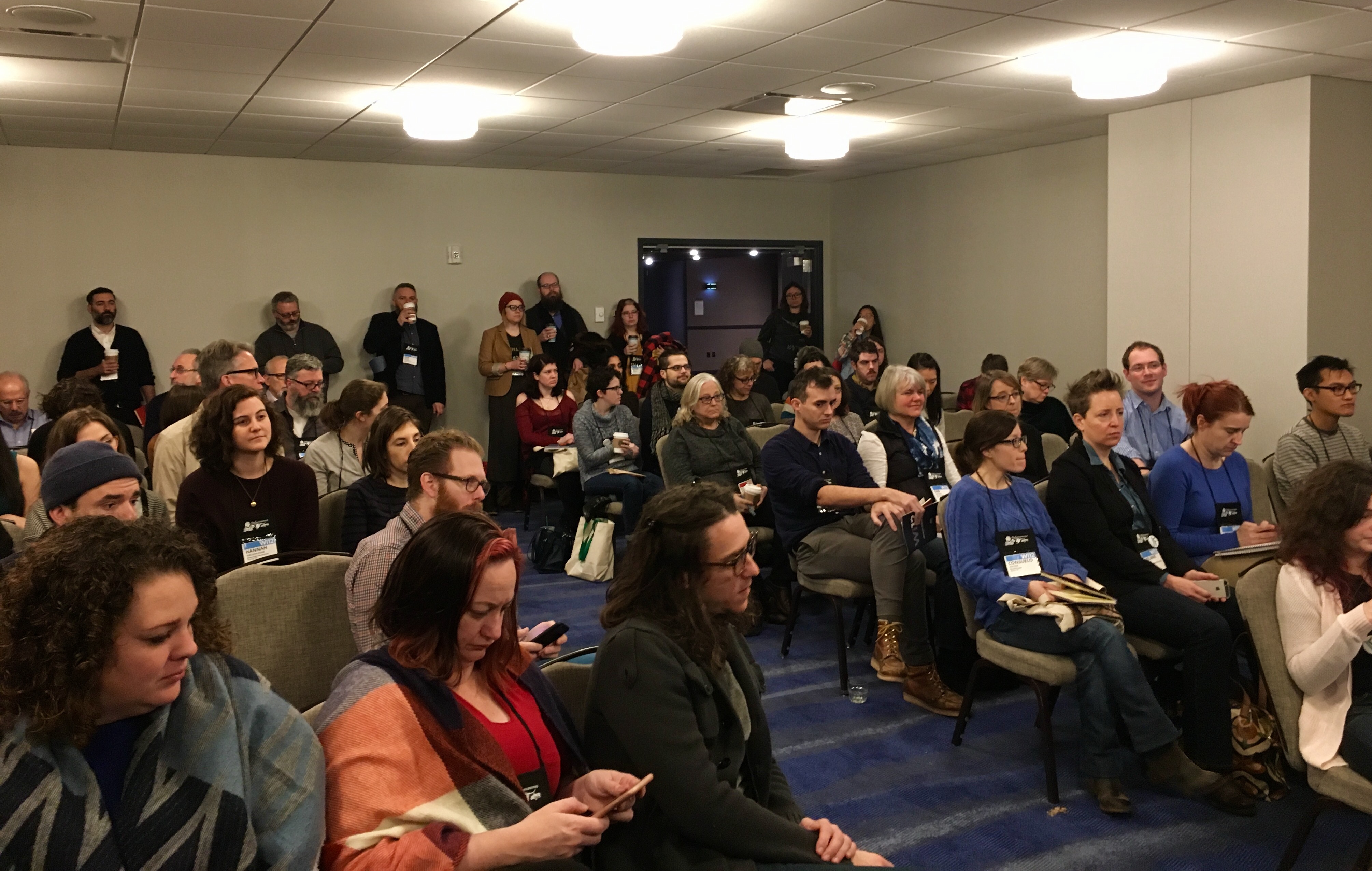 The group included store owners, managers, frontline booksellers, buyers and more from stores all around the country--some in large, liberal cities, others in predominantly conservative rural areas and others still from more mixed parts of the nation. Varying too was the degree to which particular booksellers had "owner buy-in" for taking a political stance and to what extent they might face significant pushback or financial repercussions from members of their community. After a short introduction, the booksellers broke into groups of eight or nine to introduce themselves and discuss ideas before reconvening at the end of the meeting to share their ideas with the larger group.
One of the most-emphasized points was the need for bookstore staffs to meet after Winter Institute and together decide what they stand for and what actions work best for their store and their community. It was also emphasized that owners and managers need to look out for the comfort of their staff and customers.
"Make sure that you are sitting down with your staff," advised Anna Thorn. "Make sure they want to do it. The way that we put it was to do this exact same thing at your store with your staff."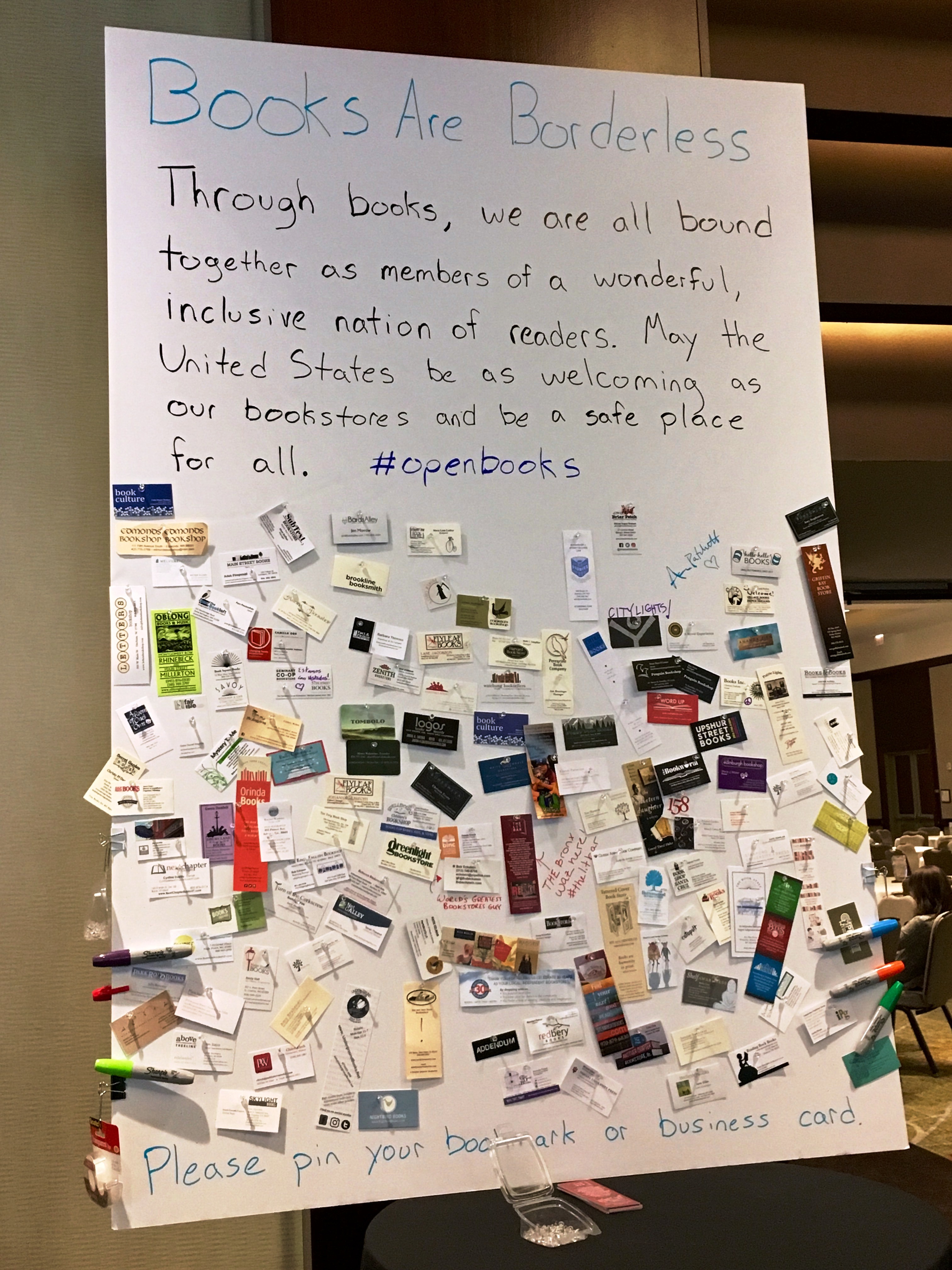 Books Are Borderless: at WI, booksellers posted their cards and bookmarks as a pledge.
A suggestion for all booksellers, even for those who might not have a lot of options, was to consider what books are featured in displays or shelved face-out, with an eye toward making sure people of color and LGBTQ people are represented. A similar and popular suggestion was to create a focused section or display around current events and social and political issues. Various booksellers mentioned having a "resist" table, a "We the People" table, a Black Lives Matter table, or a "Get Uncomfortable" table; there were also suggestions for political and social justice reading groups.
Lucy Simons recommended leaving Lucy Knisley's elected official calling cards, which can be saved, printed and filled out, as a resource for customers (the related website thesixtyfive.org also provides phone numbers of elected officials and simple scripts to follow when calling representatives about particular issues). Stores could also set up a donation jar for the ACLU or a similar organization, or take donations to buy stamps for postcard and letter-writing campaigns. Simons also suggested that owners or managers create a script for frontline booksellers or cashiers who might have to deal with belligerent or aggressive community members, adding that at her own store, she tells her staff "if someone gives you sh-t, make them come to me." Similarly, Hannah Oliver Depp and Anna Thorn suggested booksellers find out who their local police officers are and have their numbers handy by the cash register in the event of threats, vandalism, violence or more run-of-the-mill things like shoplifting.
For further education and planning, it was recommended that Indies Forward help put booksellers who are in similar areas and who might expect similar reactions and degrees of pushback from their community in touch. There were calls for future education sessions on setting up safe space for customers and staff, and leadership workshops for booksellers interested in taking on larger roles at the regional and national level, and it was also suggested that booksellers work with publishers to help bring activists and other experts to regional and national trade shows.
Toward the end of the meeting, Depp emphasized that every store will have a different "sweet spot" as far as what approaches work best for their staff, customers and broader community. For some, that may involve leaving calling cards or a donation box on the counter while making sure to display books written by queer people and people of color. Others might run social media campaigns, host fundraisers or organize an activist book club and discussion group. Said Depp: "Have that meeting with your staff." --Alex Mutter
Note: the organizers of Indies Forward can be reached at indiesforward@gmail.com.
---

---