Amazon Fourth Quarter: Sales Up 22%, Stock Drops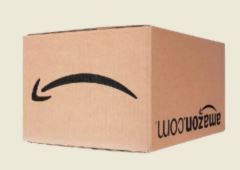 In the fourth quarter ended December 31, Amazon's net sales rose 22%, to $43.7 billion, and net income rose 55%, to $749 million. For the full year, net sales rose 27%, to $136 billion, and net income rose 302%, to $2.4 billion.
Because Amazon's sales in the quarter were about $1 billion lower than expected by Wall Street analysts, the company's stock fell 5% in after-hours trading yesterday, to slightly over $800 a share. The company also suffered because it predicted that net sales in the first quarter, which ends March 31, will grow 14%-23% compared to the first quarter of 2016, a range also below analysts' estimates of about 23.5%.
Analysts say that Amazon's higher profits "likely reflect more discipline in spending and fewer promotions at the expense of profit, as well as a larger percentage of sales stemming from its third-party sellers," the Wall Street Journal wrote. "Those sales are nearly pure profit margin because Amazon doesn't have to buy and hold the product itself. It also gets paid for items that sellers ship in for Amazon to fulfill."
---

---