Andover Bookstore Moving Across the Street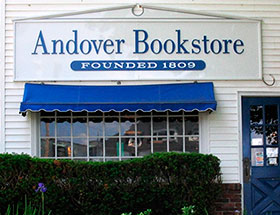 Andover's current location
The Andover Bookstore, which has been doing business in Andover, Mass., for more than 200 years and has been located at the back of Andover Village Square off Main Street for the past 50, is on the move. The Andover Townsman reported that John Hugo, "owner of the cozy, dark and inviting store, has decided to pick up stakes and move across the street, from 89 Main St. to 74 Main St., in a residential-looking building next-door to CVS."
Hugo, who also owns bookstores in Newburyport, Beverly and Marblehead, said he's looking forward to the move, which will happen overnight in early September. "Our cozy new home has unique character and loads of charm--detailed ornate woodwork, leaded windows, a soaring ceiling, and a fireplace," he said. "With a storefront that faces Main Street, even more readers will be able to discover us. I'm really excited about that. Once signage is up, it should really help sales."
The bookstore "had been on month-to-month with no lease since January" in its present location, he added. "The landlord wanted a restaurant and the rent that goes with that. We were in danger of getting kicked out at the moment a restaurant signed a lease. It's not a good feeling for the staff heading into the fourth quarter."
At the new location, the bookstore will occupy a first-floor space and downsize as the new square footage is about two-thirds of the current space, Hugo noted, adding: "It may be a smaller space but it's a better layout."
---

---