AAP Sales: Up 4.6% in May
In May, total net book sales in the U.S. rose 4.6%, to $1.15 billion, compared to the same period in 2016, representing sales of 1,204 publishers and distributed clients as reported to the Association of American Publishers.
For the year to date, total net sales have risen 4.3%, to $4.2 billion, led by higher ed, up 22.6%, religious presses, up 4.1%, and professional books, up 2.7%. K-12 was up 1.8%, adult books rose 1.6%, and children's/YA was flat.
Among May highlights, e-book sales for trade publishers rose 2.4% over May 2016, the first gain for e-books in more than two years, mainly because adult e-book sales were up 3.4%. Downloaded audio rose 32.2%, continuing its blistering pace this year.
The following are sales by category in May compared to sales in May 2016: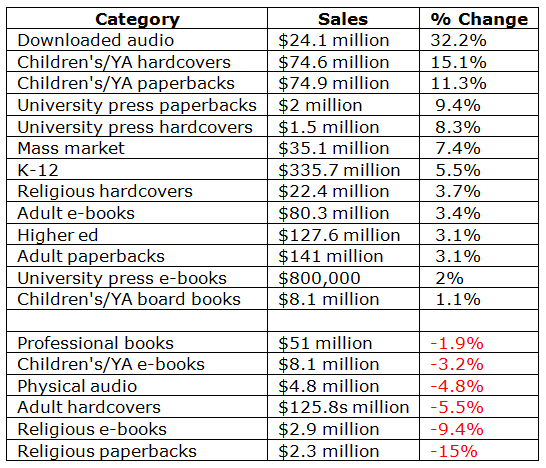 ---

---