That Bookstore in Blytheville (Ark.) Has New Owners, New Name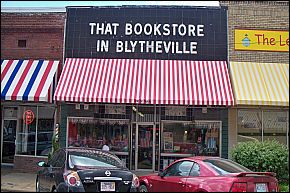 After being sold by founder Mary Gay Shipley in 2012, That Bookstore in Blytheville, Blytheville, Ark., has had several owners. Now a new set of owners has come in and is making significant changes: the store's name is now Blytheville Book Company, and it will close after Christmas for "a significant facelift and infrastructure improvements" and will reopen in March, according to the Blytheville Courier.
Despite the changes, store manager Debra Caudle told the paper, "We want to continue Mary Gay Shipley's legacy for the community. The bookstore is world famous. People, truly, all over the world know about this store." After its reopening, Caudle added, the Blytheville Book Company will offer new books and classics, as well as toys and gifts "more in the vein of what you would find in a museum shop."
Andrew and Erin Carrington recently bought the store from Chris Crawley, who bought the store in 2013 from Grant Hill, who had purchased it from Shipley.
---

---