B&N to Open New New Concept Stores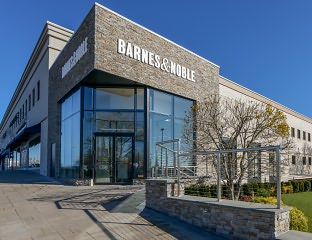 Later this year, Barnes & Noble will open five stores featuring a new, smaller-format design in which "front and center will be our new books," according to CEO Demos Parneros. The stores, which will ideally be 14,000 square feet--much smaller than the company's traditional 25,000-square-foot superstores--will have a "fresher, cleaner, newer, very up-to-date" feel, Parneros added.

B&N will not open any more of the new concept stores first introduced in 2016 that featured full kitchens. Parneros called the five "kitchen concept" stores "a great learning experience" that helped in the design of the newer prototype.

Parneros and other B&N executives discussed this and other subjects during a conference call (transcript courtesy of seekingalpha.com) last week following the company's release of its third-quarter results. (In the quarter ended January 27, sales fell 5.3%, to $1.2 billion, and the company had a consolidated net loss of $63.5 million.) Again and again, they stressed that they are engaging in a strategic turnaround plan, whose elements consist of, as Parneros put it, "One, strengthening the core. Two, improving profitability. Three, accelerating execution. And finally, number four, innovating for the future."

In other news from the conference call:
While books had the lowest drop in sales in the third quarter--down 4.1%--the gift, music and DVD categories had the worst results, all down by double digits, only partially offset by "growth in toys and games and café business." In January, at stores open at least a year, books, especially the frontlist, continued to have relatively strong sales.

Parneros reiterated his declaration last year that books are the most important part of B&N, saying, "Books are a heritage and centerpiece of everything we do.... We are reasserting our book leadership by placing a greater emphasis on books while taking a much more pointed view of our non-book products."

Still, he emphasized that B&N is "very committed to the stationery, gift, toys and games businesses" because "they are an important part of our assortment and our value proposition to the customer."

Parneros didn't mention the layoffs of three weeks ago--as many as several thousand booksellers lost their jobs--but several times cited the company's "new labor model," which he said ensures that "booksellers are focused on helping customers first and performing tasks second."

Among company-wide expense cutting efforts, he noted something that might be related: "whether it's how we unload a truck or how we do simple tasks in the store, we are really looking to update and modernize and speed up the way we do things so that we can take expense away and just become more efficient." Severance costs in the quarter were $10.7 million; the cuts will result in "annual cost savings of approximately $40 million."
At the same time, Parneros said that B&N is "focused on attracting, retaining and developing top talent throughout the organization.... In my first year on the job, I am thrilled to say that we have added eight new executives to our team. This has allowed us to have an incredible balance between people with deep company history and bookselling experience, combined with the talented retail executives we have added. I feel like we have a fantastic team to lead our transformation."

Parneros proudly noted that the company has increased its "omnichannel capabilities." For example, six months ago B&N launched its ship-from-store program, under which stores fulfill bn.com orders. Later this year, B&N will allow customers to order and pay for a book online, then pick it up in a store within the hour, whereas before they could only reserve a book online for in-store pickup.

In the last six months, the company has added 500,000 people to its membership program, bringing the total to 6.5 million.
The company also said it had a tax benefit of $26.4 million, "following the enactment of the Tax Cuts and Jobs Act legislation." In addition, with its continued dividend of 60 cents a year, during the last year, B&N "returned $44 million in cash to its shareholders." (As the company's share price has plummeted to an all-time low in the $4-$5 range, its dividend yield is now almost 13%, very high by Wall Street standards.)
---

---