Judith Curr to Head HarperOne, Amistad and Rayo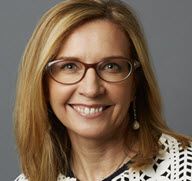 Judith Curr
Judith Curr will join HarperCollins as president and publisher, HarperOne, Amistad and Rayo, effective April 2. She will also be a member of the global executive committee. Curr, who founded Atria Books in 2002 and was named president and publisher of Atria Publishing Group in 2012, left that position in January. A native of Australia, she has been an executive in U.S. publishing since 1996.
In her new role, Curr will work with the existing team, expanding the imprint's current editorial scope to include developing, marketing and building fiction and nonfiction properties with global appeal for both the HarperCollins English- and foreign-language publishing programs. According to the company, the goal is to increase HarperOne's list from 50 titles to 120 titles per year. She will also continue to build the company's list of diverse writers and stories within the HarperOne list, as well as expand the Amistad and Rayo trade lists. HarperOne staff will continue to work out of both the New York and San Francisco offices.
"I have always greatly admired Judith's creative and entrepreneurial approach to publishing, evidenced by The Secret exploding into a cultural phenomenon, and Fredrik Backman's A Man Called Ove climbing bestseller lists around the world," said HarperCollins CEO Brian Murray, to whom she will report. "Her ability to achieve broad success across a wide range of genres is remarkable, and her focus on publishing books that help shape the culture in positive ways makes her a perfect leader for the HarperOne group. Judith brings tremendous experience, passion and energy to the next set of global blockbusters across HarperCollins offices around the world."
Curr commented: "I have great respect for Brian Murray, particularly his global vision. My role--to build upon the already successful and diverse HarperCollins imprints--perfectly combines my passions in publishing. It comes at a time when publishing is full of opportunities and challenges, and as new voices and readerships are emerging both globally and locally."
---

---