Nobel Prize in Literature Postponed Until 2019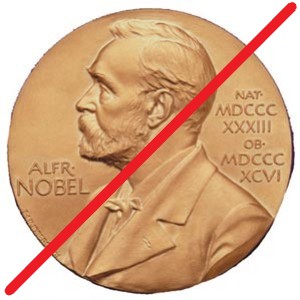 The Swedish Academy has decided to postpone the 2018 Nobel Prize in Literature, with the intention of awarding it in 2019. In a statement, Carl-Henrik Heldin, the Nobel Foundation's chairman of the board, said that according to the Swedish Foundations Act, the Nobel Foundation "is ultimately responsible for fulfilling the intentions in the will of Alfred Nobel. During the past several weeks, we have pursued a continuous dialogue with the Swedish Academy, and we support Thursday's decision."
Although the Nobel Prize is, in principle, awarded annually, decisions on the award have been postponed on a number of occasions during its history. "One of the circumstances that may justify an exception is when a situation in a prize-awarding institution arises that is so serious that a prize decision will not be perceived as credible," Heldin noted.
This decision was prompted by a crisis involving accusations of assault by 18 women against French photographer Jean-Claude Arnault, who is married to an Academy member, Katarina Frostenson.
In the wake of the accusations, the Academy dismissed permanent secretary Sara Danius, who had severed the group's ties with Arnault and commissioned an investigation of the Academy from a law firm, though she remained part of the panel, the New York Times reported. Some of the Academy's 18 members resigned over Frostenson's continued membership, while others left in protest of Danius's treatment. The group now has 10 active members, too few, under its rules, to elect new members.
Noting that the crisis in the Swedish Academy has adversely affected the Nobel Prize, Heldin said the decision to postpone the award for a year "underscores the seriousness of the situation and will help safeguard the long-term reputation of the Nobel Prize. None of this impacts the awarding of the 2018 Nobel Prizes in other prize categories."
The Nobel Foundation "presumes that the Swedish Academy will now put all its efforts into the task of restoring its credibility as a prize-awarding institution and that the Academy will report the concrete actions that are undertaken," Heldin added. "We also assume that all members of the Academy realize that both its extensive reform efforts and its future organizational structure must be characterized by greater openness towards the outside world."
Regarding the postponement, Academy member Peter Englund told the Times: "I think this was a wise decision, considering both the inner turmoil of the Academy and the subsequent bloodletting of people and competence, and the general standing of the prize. Who would really care to accept this award under the current circumstances?"
---

---