Olga Tokarczuk Opens the Frankfurt Book Fair
"I believe in literature which ties people together, which highlights what people have in common despite differences in skin color and sexual orientation, despite what separates us on the surface," said Polish author and Nobel Laureate Olga Tokarczuk at the opening press conference of the Frankfurt Book Fair yesterday morning.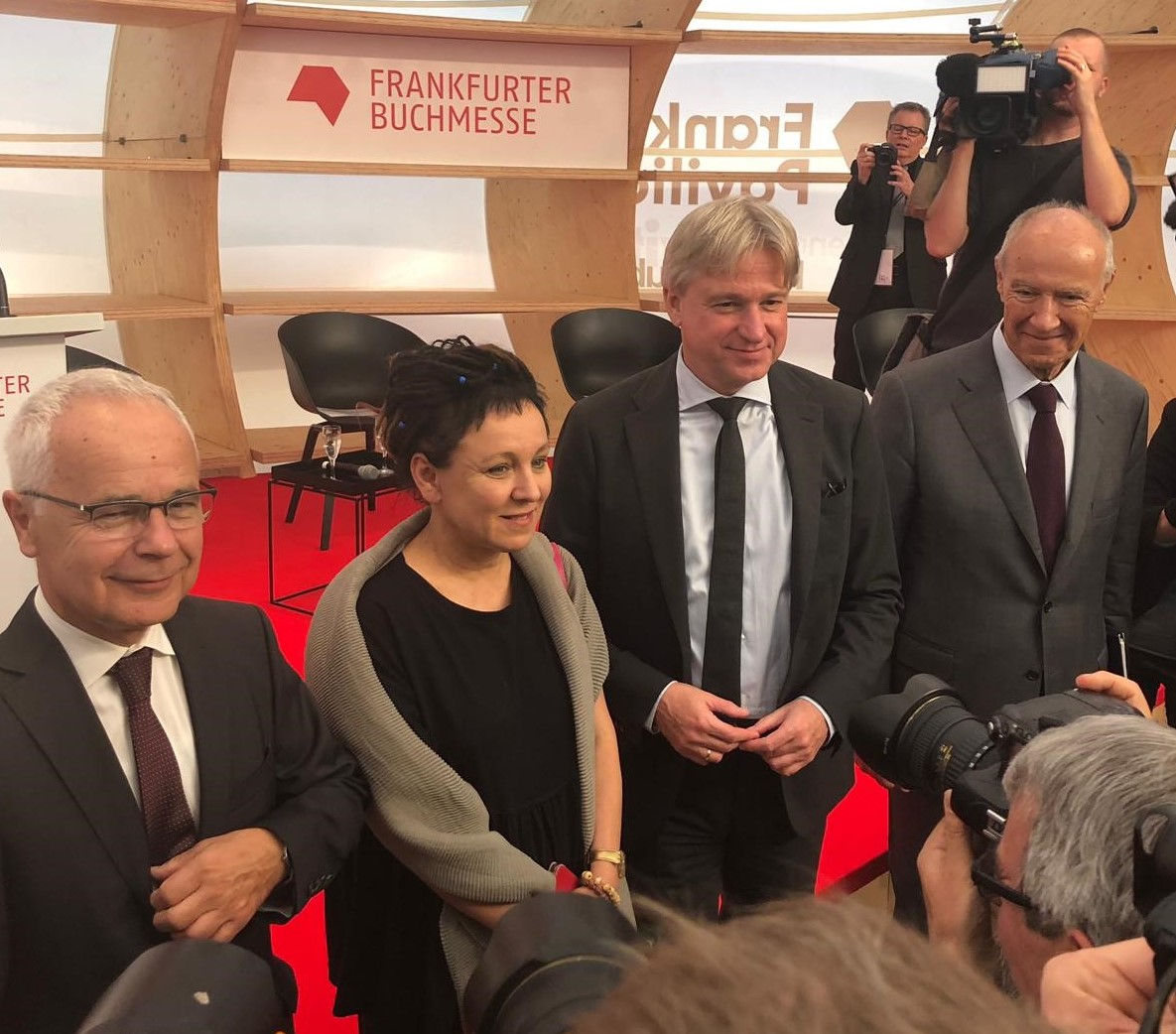 At the Frankfurt Book Fair opening press conference yesterday: (l.-r.) Heinrich Riethmüller, Olga Tokarczuk, Juergen Boos and Francis Gurry
Tokarczuk--who spoke along with Juergen Boos, president and CEO of the Frankfurt Book Fair; Heinrich Riethmüller, president of the Börsenverein, the German book industry association; and Francis Gurry, director general of the World Intellectual Property Organization--discussed how she found out about the award, her reaction and the current political climate in Poland.
She reported that she was on the road, in the midst of a book tour in Germany, when she stopped at a roadside restaurant on the way to a reading in the city of Bielefeld. She got the news by telephone, and by the time she arrived in Bielefeld that evening there was a large crowd gathered outside the city library, the Lord Mayor of the city was present wearing a gold chain, and there were "lots of microphones."
"I was given an extremely warm welcome," Tokarczuk continued. "My impression was, I'm amongst friends."
She described her writing as part of a "deeply rooted, multicultural tradition" that has existed for a very long time in Poland, but is "not something everybody is aware of." And while people often think of Poland now as a place striving for a "homogeneous structure," the country is the "result of the entwinement of many different cultures." She said she wonders sometimes whether it's "actually possible to describe this world," but nevertheless she believes in a kind of literature that "makes it clear, on a deeper level," that everyone is "tied together through invisible, but existing threads," and a kind of literature that speaks to a "lively, ever-changing world of unity, of which we are a small but not insignificant part."
Tokarczuk learned of her Nobel win just a few days before the Polish parliamentary elections, which saw the right-wing Law and Justice party win some 43% of the vote. She said she was "not very enthused" by the outcome of the election, but she was glad about the composition of the new parliament and particularly the many new representatives there.
When asked what effect another ruling majority for the Law and Justice party might have on artists and writers in Poland, Tokarczuk said things are most dire for cultural institutions that are controlled and funded by the government, and she noted that the right-wing government "has its own ideas about what art and culture are."
Literature, she said, would not fare as badly, because most publishing houses are privately owned and there is "nothing like" official censorship in Polish literature. But, she acknowledged, there is a growing, worrying trend of self-censorship in Poland. She added: "I can only hope that this development will not continue and affect literature."
Boos and Riethmüller, meanwhile, discussed the state of German publishing and the role of publishing in today's chaotic world. Boos said that in the years ahead publishers will not only have to embrace diversity, foster community among readers and make smarter use of data and analytics, but they--and the entire book industry, from booksellers to librarians to printers--will have to work hard to move toward a sustainable future and make sure that every process is carbon-neutral.
Riethmüller noted that for the first time in seven years, the German book market saw rising book sales in 2018. In particular, nonfiction titles are booming, especially in the nature and technology categories, and Riethmüller attributed these increases to consumers wanting to better understand the world around them. He, too, called for the book industry to move toward more sustainable practices, pointing out that nearly all German publishers already use paper from sustainable forestry. And in a time when many countries are "developing into non-democratic states," he reiterated that the Frankfurt Book Fair stands for "freedom of expression and open dialogue."
Gurry observed that as technology has changed ever more rapidly, the world has entered a period of "de-connecting," with the very idea of international cooperation under attack. When asked why, he suggested that there is a "deep disquiet" about the speed and radical nature of the changes people are experiencing, which has led to a widespread "reversion to fundamentalism." People are going back to old, reactionary values, and one of the most fundamental of those values is the fear of the foreigner. He remarked: "This is a big danger." --Alex Mutter
---

---