Coronavirus Update: LBF Worries; Some Chinese Bookshops Re-Open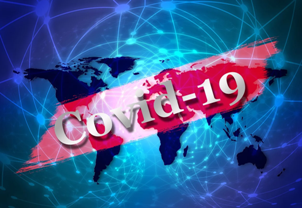 As the COVID-19 coronavirus (and worries about it) spreads across the globe, the book business is being affected in a variety of ways.
Although the London Book Fair says it will take place next week, since Friday, the U.S. operations of Simon & Schuster, Macmillan, HarperCollins, Hachette and Ingram have indicated that they won't attend this year, as reported by Publishers Lunch, PW and the Bookseller. In addition, some parts of Penguin Random House U.S. aren't attending; for others, the choice to attend is up to individual staff members. Among other companies dropping out of this year's fair are OverDrive and Amazon, and many other potential attendees from the U.S. are reconsidering travel plans, in part because of fears of being quarantined either in the U.K. or upon returning to the U.S.

Also over the weekend, Livre Paris, which was to be held March 20-23, has been cancelled, Livre Hebdo reported, a decision made after the French government on Saturday banned gatherings of more than 5,000 people in a confined space. The book fair is run by Reed Exhibitions, which runs the London Book Fair.
LBF says the show will go on and that it is "continuously monitoring the situation." On its website, it urges all attendees to follow guidelines and protocols set by WHO and U.K. health authorities and says it has "introduced a number of measures (which will evolve as required), which currently include: communication of WHO recommendations regarding hand, respiratory and best hygiene... strengthened collaboration with onsite teams (AV, registration, venue) to ensure vigilance and health/safety processes; WHO/public health messaging displayed and shared during the event; increased standards of hygiene and cleanliness in the venue including hand gel in public zones; strengthened hygiene, sanitization, availability of disinfectants; reinforced medical support within Olympia; additional support to exhibitors who wish to adopt specific hygiene measures for their stands."
It also recommends that attendees "may prefer and should expect others may want to avoid shaking hands" and "may wish to carry a personal supply of hand sanitiser, tissues and wipes in and outside of the event." Last but not least, "exhibitors may wish to book an enhanced cleaning/sanitisation regime for your stand and you may want to consider having extra sanitising gel/wipes for buyers coming to your stand."

LBF added that for people who can't attend the fair, it is "doing our best to ensure that as much content as possible is streamed and shared though social channels."

---

Chinese bookstores have coped with the coronavirus epidemic in a variety of ways, having to close for several weeks and of course seeing sales plummet. Many have reopened, but the customer experience has changed dramatically, at least in the short term.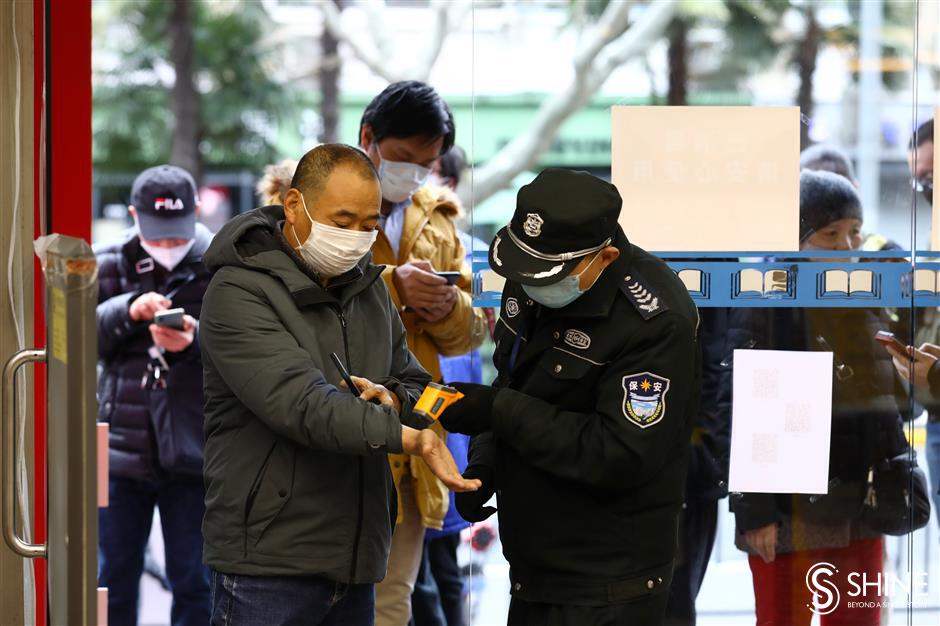 (photo: Shine.cn)
Shanghai Book City now requires customers, before they come inside, to have their temperature taken by a guard at the door and to show a medical QR code that shows they are healthy. They must wear surgical masks, and once inside the store, they need to keep one meter (about a yard) from anyone else.
Shine.cn reported that during a visit this weekend, the bookstore, "which is usually crowded, seemed a bit empty with only a few customers on each floor." On the first floor, the store had a large display "devoted to books on epidemic prevention and control, including some on mental health."
Last week, OWSpace, which has four stores in China, used social media to ask customers to help it stay afloat by buying store gift cards, a move that received widespread support, according to Sixth Tone. The stores' sales are down more than 80% and the company will likely go bankrupt in six months if the situation continues, OWSpace said. "During this arduous time for everyone, it is our hope that every person and every bookstore will finally walk out from loneliness and embrace the spring," OWSpace wrote.
Zhou Juan, director of public affairs at Yanjiyou, a five-year-old bookstore chain with 62 outlets, told Sixth Tone: "The arrival of this virus has destroyed people's consumption habits. People suddenly can't go outside; they can only stay home. That's why this is such a massive blow to bookstores."
Some Chinese bookstores have taken creative approaches to dealing with the situation. Yanjiyou stores have been delivering books and cakes to customers using a popular food-delivery app. "The chain is also dabbling in livestreamed content such as book recommendations, panel discussions, and literary readings, as well as publishing videos on Douyin, the Chinese name for TikTok."
Another store, 1200 Bookshop, is running a "book surprise" service whereby "customers can pour out their feelings to the store's WeChat account, then staff will hand-pick a book to send them that matches their current mood."


---

---