'Good Busy'
"Good Busy. That's what my goal is these days. The new reality is that our daily bookstore lives are completely different than what they were a month ago, not to mention our personal lives. Some of us are closed completely, some of us are operating curbside and delivery services while the store floor is closed to the public. Some of us are home working remotely, filling what orders we can. I think we've all become accustomed to change at this point--independent bookstores have always been good at reacting and adapting--but the Covid-19 virus has ramped up that cycle a millionfold.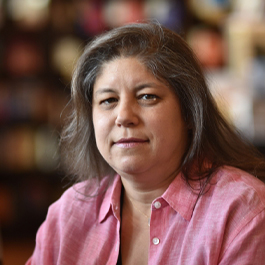 "This rapid cycle doesn't change the basics: Independent bookstores are more important than ever, our communities need us now (even if only through social media), and they will really need us as we begin to emerge from isolation and fear. As we will need them.
"We've always been fighters, we've always been innovators, and this pandemic doesn't change that. Let's hit overdrive in a smart way: Let's use the information the ABA staff is compiling for us, let's all be 'good busy,' let's take care of the day-to-day logistics but also think about medium and long-range tasks each day. Yes, finances are a big whopping 'if' right now, but we must have faith there's a way out of this.
"You may want to give up now (and you're certainly allowed to), but this is an extraordinary time of forgiveness; use it to your advantage to make your store and yourself stronger and smarter and better connected. Read your daily ABA Covid-19 updates--these are action items created with an indie bookseller in mind. The information is changing all the time, and the ABA staff is working furiously to keep on top of the data and distill it down to what we need to know.
"We have options, not all of them good, but many of them viable. Every day, look at that Covid-19 resource page on BookWeb and decide: What will help me today? Tomorrow? In two weeks? In two months? How can I make a baby step (or a big step) in a positive direction every day?
Think of these steps in terms of health, finance, well-being, community, and 'after.' That's what I'm doing. And I'm not alone because ABA has our back. My goal is to survive this with our connection to the community intact. How can I support my staff, either by keeping them paid or helping them find benefits because there is no work? Whereas a lot of independent businesses are out there with no support network, we have ABA and we have each other. Let's stay Good Busy and inch our way through this difficult time."
--Jamie Fiocco, president of the American Booksellers Association and owner of Flyleaf Books, Chapel Hill, N.C., in a
letter to members
in
Bookselling This Week
---

---