NYC Booksellers Enter Phase 1 of Reopening Cautiously
New York City, which has been a tragic hot zone for the Covid-19 pandemic, entered Phase 1 of its reopening plan this week, which includes authorizing retail businesses to offer curbside and in-store pickup. The city's indie booksellers are currently exploring their options. Here's a brief sampling:
Sarah McNally, owner of McNally Jackson bookstores, spoke with WNYCs Brian Lehrer about what this will mean for small businesses. She also told the Wall Street Journal: "I've been watching Europe very closely and what they're doing there and it seems like it's very easy to put in protocols that keep things safe. I feel safe personally."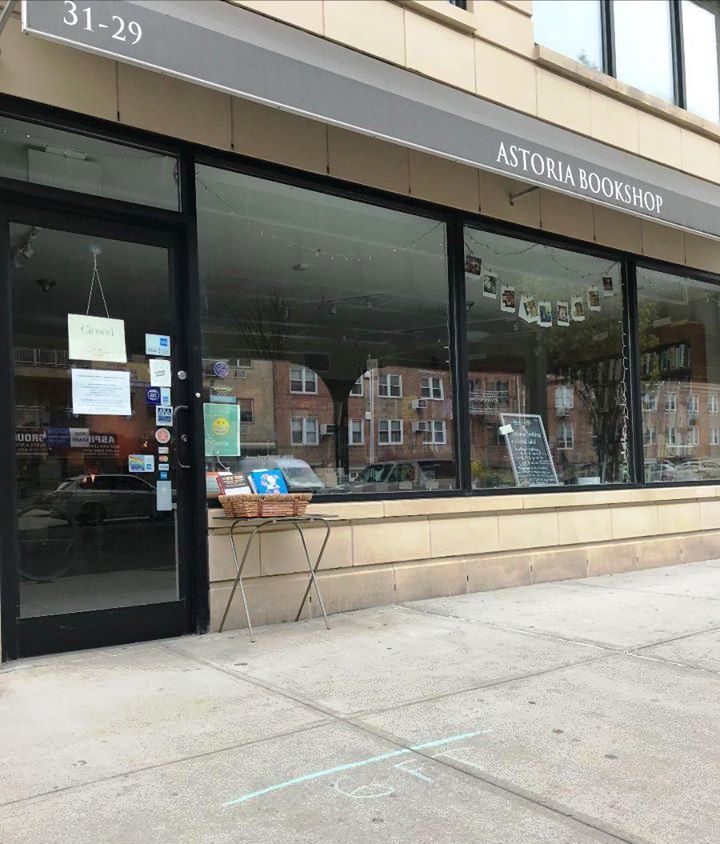 Curbside pickup at Astoria Bookshop
"NYC began Phase 1 of reopening today! What does that mean for us?" Astoria Bookshop asked. "We will continue to offer curbside pickup, Tuesday-Saturday BY APPOINTMENT ONLY. When you arrive at your scheduled time, your books will be on a table just inside the door. You MUST be wearing a mask to come inside. Only ONE person at a time may come in to pick up books.... We can't wait until we can invite you back in to peruse the shelves and gather for book club discussions and attend storytime and author events."
The Strand bookstore is offering store pick-up at the side entrance on 12th St. "Per NY State Law, we also ask that a mask be worn when picking up your order." Strand's communications manager James Odum told NBC News: "There's been an outpouring of excitement. Everyone is excited to have some face-to-face interaction, with social distancing." In an interview with MY9, owner Nancy Bass Wyden said, "I'm so excited to be open even this small step of being able to have a curbside pickup desk in the front.... I think it's going to be a slow progress back to any kind of resemblance of what we were before."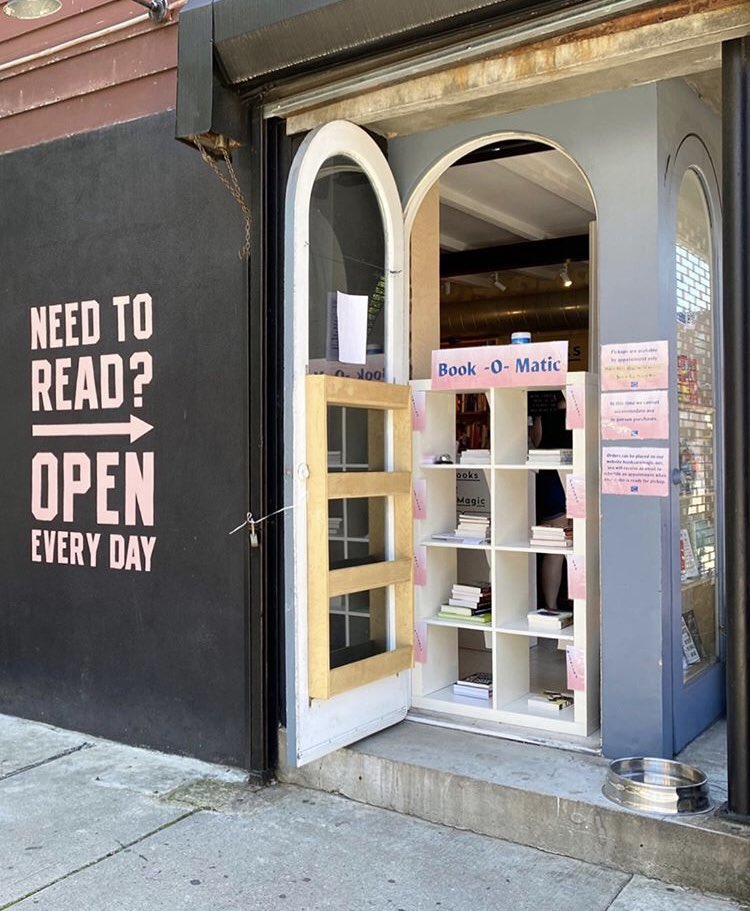 Book-o-Matic at Books Are Magic
At Books Are Magic, "Curbside pick up is live!" (including the store's Book-O-Matic station)
Greenlight Bookstore said (via yesterday's e-newsletter) that it "is preparing for our Phase 1 reopening, which will offer expanded options for online ordering and curbside pickup. We are proceeding with caution so that we can make sure that our staff and customers remain protected and safe, and that we can provide a smooth shopping experience; in the meantime we have suspended curbside pickup while we prepare. Stay tuned for more details later this week! In the meantime, you can still order any titles on this list through greenlightbookstore.com, for fast direct-to-home shipping via our supplier warehouse."
The Lit. Bar's owner Noëlle Santos spoke with PIX11's Marysol Castro about "how she's been dealing with the Covid-19 shutdown, preparing for reopening and the ongoing protests against police brutality."
Three Lives & Company had been shipping around the country while the store was closed. "But now for locals, they have the option to swing by and pick it up," said owner Toby Cox, who had about 25 orders waiting for curbside pickup when the bookshop opened Monday, the Wall Street Journal reported.
Bonnie Slotnick Cookbooks "has been closed for almost three months. I've been sending out books by mail and sometimes delivering them by bike. Now, retail stores like mine may offer 'curbside pickup,' which means that I can come outside and pass you a bag with books in it.... I'll continue to be in the shop most afternoons and evenings, and I'll confirm my hours (or make up new ones) if you're coming to pick something up. You'll need to wear a mask, and I'll be wearing one, too. It's a different world now--maybe a much better one if all keep trying to do the right thing."
At Community Bookstore, "We're back next week for prepaid, contactless pick-up! When your books arrive, we'll contact you to arrange pickup starting June 9.... Pick-up will be contactless at the door and will require you to wear a mask. All orders must be prepaid. Thanks for your support." Co-owner Ezra Goldstein told the Wall Street Journal: "You shouldn't underestimate how hungry people are for a little human contact and saying hello."
New Vessel Press noted that "NYC bookstores start reopening today for curbside and in-store pickup and we're thrilled to have New Vessel Press novels back on sale at Book Club Bar in the East Village."
---

---