ABA Expanding Board, Will Have Minimum of Four BIPOC Booksellers

Two bylaw changes sought by the American Booksellers Association will increase the number of board members to 13 from 11 and "commit a minimum of four of those 13 seats to be held by Black, Indigenous, and People of Color (BIPOC) booksellers, of which a minimum of two shall be Black booksellers." As soon the bylaw changes are approved by membership, the board will seek board nominations from members, and a new nominating committee that includes two people of color, including at least one Black bookseller, will review the nominations, interview the nominees, and make recommendations to the board. The board will appoint two Black booksellers to serve until the next election cycle begins, in early spring 2021. At that time, these appointees can run as incumbents in the new election for a regular three-year term.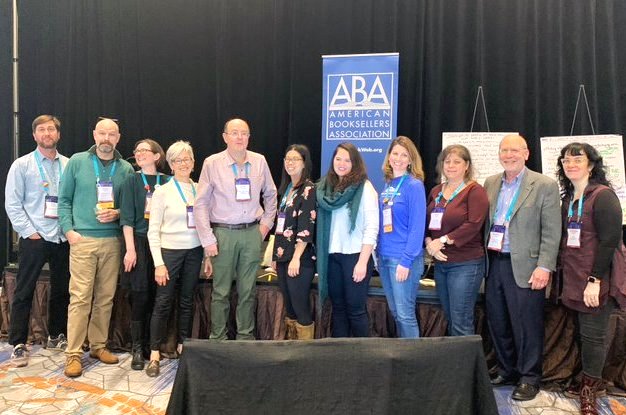 The ABA Board at Winter Institute in January.
In a letter to members in yesterday's Bookselling This Week outlining the changes, president Jamie Fiocco of Flyleaf Books, Chapel Hill, N.C., said that the bylaw changes aim immediately to address "our lack of diversity and representation on the board." She noted that "in ABA's history there has only been one Black board director. We wish to acknowledge our failures and focus on actual system changes to ensure the erasure of Black voices no longer continues."
She added: "Our commitment to change includes reinventing how the board operates: improved communication with membership and staff, a wider sharing of institutional knowledge, and a decentralization of responsibility. We are discussing a yearly diversity, equity, and inclusion audit of the board along with regular antiracist training and making diversity part of our DNA rather than a hackneyed word sprinkled throughout our governance documents. Our aim is to build value for all members, and part of that must involve a focus on BIPOC booksellers. To do this, we need to listen to BIPOC voices, increase the speed in which these voices can inform, and increase the number of talented people engaged in ABA initiatives. We remain committed to all diversity and are also acknowledging that our efforts to include BIPOC voices have moved too slowly."
---

---