Three Indies Team up to Create Books in Common NW
Independent bookstores Paulina Springs Books in Sisters, Ore., Madison Books in Seattle, Wash., and Country Bookshelf in Bozeman, Mont., have teamed up to host a virtual speaker series called Books in Common NW. The inaugural event, on July 2, featured mystery writers Elizabeth George and Iona Whishaw in conversation, and every Thursday since, Books in Common NW has hosted a new author talk.
The event series grew out of conversations between Lane Jacobson, owner of Paulina Springs Books, Ariana Paliobagis, owner of Country Bookshelf, and James Crossley, manager of Madison Books, who are all on the Pacific Northwest Booksellers Association board of directors.
Crossley explained that going into 2020, he had planned to make a much bigger foray into author events. His store, which opened on Iindependent Bookstore Day last year, is only around 400 square feet. In order to host larger events, he began working with other venues, and he'd lined up an event with Canadian mystery writer Iona Whishaw, who is a "rock star" in his store but otherwise not especially well known. The week that Crossley would have officially announced that Whishaw was coming to his store was also the week when it became clear that "no one would do anything like this for a while."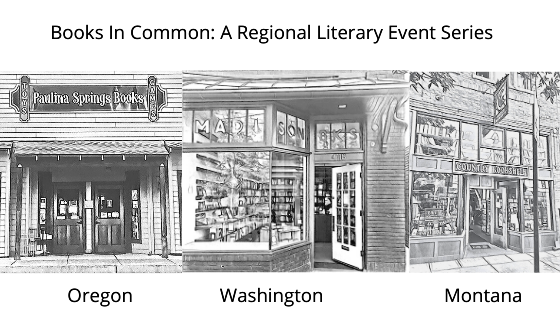 Crossley had the idea of doing a virtual event with Whishaw instead, and began talking with Paliobagis and Jacobson about ways he could try to bring Whishaw to the widest audience possible. From there, Jacobson said, things evolved quickly, with all three stores sharing resources.
"Pooling the audience base was a big motivation for me," Jacobson continued. If he tried to do these sorts of events himself, he said, he could drive himself crazy learning the necessary skills and then have only 10 people attend. With all three stores involved in promoting and hosting the events, the expected turnout is generally around 50-60 people. "It makes a lot more sense this way."
As soon as the three stores started working together, the scale of what they could accomplish changed. A lot of the authors they've been able to schedule for these events, Paliobagis said, are those who in the past would "never have come to my store." And many of the events involve multiple authors, which would also have been difficult for her to arrange normally.
Crossley pointed to an August event with Jeff VanderMeer and Catherynne M. Valente and noted that in the "old world," those authors would almost certainly not have done events at his store, even if they did travel to Seattle for a tour. Jacobson added that this series has also been a boon for authors who probably would not have been budgeted for a conventional book tour.
The bookstore trio has authors lined up for the rest of July and August, and are busy putting together events for the fall. There are things in the works that will coincide with Bookstore Romance Day; the release of the anthology Alone Together: Love, Grief and Comfort During the Time of Covid-19; and more.
Crossley, Paliobagis and Jacobson reported that they've received great feedback from their customers as well as from authors involved. The first event with George and Whishaw drew around 100 viewers, and both authors "got a kick out of it," Crossley said. Paliobagis added that she has customers who have already registered for every single upcoming event, regardless of the author, and Jacobson noted that some of his customers have said they're very happy with the events, especially some older folks who can now attend author talks from the comfort of their own homes.
"I would love to encourage other stores to band together and do this," said Paliobagis. "None of us are big stores. Find some people you work well with." --Alex Mutter
---

---