'Indies Keeping Their Bright Light Shining'
"Despite all the loss, uncertainty, and fear, there's still good news. During challenging times, we rise up together and collectively reaffirm our values. Many bookstores have had a successful year, and many more are reporting they had the best holiday in history....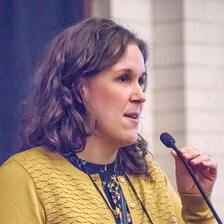 "Whether or not sales were up, down, or flat, independent bookstores worked tirelessly to keep their bright light shining at a time when it feels like we need them more than ever--and I don't say that lightly. We always need bookstores, but in a year when we were confined to our homes, disinformation flared, Amazon deprioritized books, and our country desperately needed to read about antiracism, bookstores were there for us as an unwavering refuge in the storm.
"I'd like to say thank you to booksellers and everyone in the industry who reinvented their work again and again. Each book we bought felt like one more brick laid on the path to a better world."
--Carrie Obry, executive director of the Midwest Independent Booksellers Association, in
a letter to members
---

---