Bookselling Notes: Smooth Sailing; Gurr Boards Hastings
The
Miami Herald
sails into the world of maritime bookstores, profiling Bluewater Books & Charts, the Ft. Lauderdale store that recently expanded into 9,000 square feet of space and has sales of $5 million a year, about half of which are on the Internet or through catalogues. Owners Vivien Godfrey and John Mann credit 10% annual growth to baby boomers who want to sail long distances and to new technology, particularly GPS, for making navigation easier.
---
The Oprah effect, via Broadway.
Oprah is putting her name and more than $1 million behind the musical version of
The Color Purple
, which had gotten mixed reviews in Atlanta and is set to open in New York City in December, according to today's
New York Times
. The marquee will read:
Oprah Winfrey Presents: The Color Purple
. Oprah starred in the movie version of Alice Walker's novel.
---
Books-A-Million, which is flirting with being delisted by Nasdaq, rallied somewhat on Friday, closing at $8.58 a share, up 4.6%. Expect a restatement of results sometime soon.
---
You never know what you'll find when you travel to one of the world's largest bookstores.
Congratulations: Nancy Bass, co-owner of the Strand bookstore in New York City, married Senator Ron Wyden (D.-Ore.) Saturday in Cannon Beach, Ore. The two met when Bass went on a business trip to Portland to meet with Michael Powell, owner of Powell's Books and powells.com. The marriage was announced this summer (
Shelf Awareness
, July 13).
---
Bookselling blast from the past.
Hastings Entertainment has named Danny Gurr a member of the board of directors of the multimedia retailer. A management consultant and interim president and COO of Cost Plus, a casual home living and entertainment products retailer, Gurr is perhaps best known in the industry as president and CEO of Lauriat's Books, positions he held from 1991 to 1998. Lauriat's owned and operated several chains and folded in 1999. Since then, Gurr has headed Dorling Kindersley, Quarto Holdings and Make Believe Ideas.
---
Like several of its megachurch brethren, the Cathedral of Praise has moved into large quarters and set up a bookselling operation. The new World Ministry Center in Monclova, near Toledo, Ohio, is a 120,000-sq.-ft. former corporate headquarters that includes a bookstore and "trendy coffee shop," as the
Toledo Blade
put it.
---
The next issue of
Ruminator Magazine
will be its last. Founded in 1986 as the
Hungry Mind Review
by David Unowsky and the Hungry Mind Bookstore, St. Paul, Minn., the quarterly has been a critical success and seen subscriptions increase but is not self-sustaining, editor Susannah McNeely told the Associated Press. The magazine has a circulation of 20,000 and is distributed in some 150 bookstores.
Hungry Mind bookstore, later renamed the Ruminator, closed last year.
---
Reminder: The Book Industry Study Group's annual meeting and fall conference takes place this Wednesday, September 28. The focus of several panels: a preview of the organization's used book study and a discussion of the global data synchronization network (GDSN). For more information, call 646-336-7141 or visit BISG's
Web site
.
---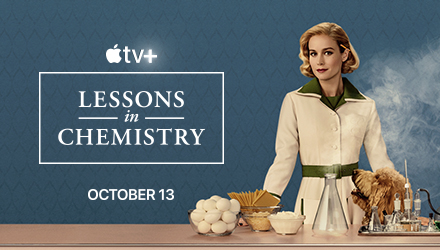 ---