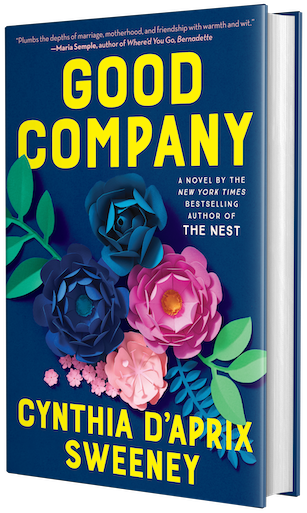 Good Company
Cynthia D'Aprix Sweeney
The author of the bestselling debut novel, The Nest, here mines the complexities of marriage, motherhood and friendship with humor and incisive observations.
The opening scene grabs readers and never lets them go: While searching for a photo to frame for daughter Ruby's high school graduation, Flora Mancini discovers her husband Julian's wedding ring--the one he said he'd lost 13 years ago, tucked in an envelope in a filing cabinet in their Los Angeles garage.
Cynthia D'Aprix Sweeney fluidly moves between the perspectives of Flora, Ruby and Flora's best friend, the beautiful, wildly successful actress, Margot. Flora and Margot were roommates and struggling actors in New York. It was Margot who invited Flora to Julian's party, where Flora and Julian met, fell in love, and started a theater troupe. And it was David, Margot's pediatric heart surgeon husband who named the troupe Good Company. Flora and Julian were finally enjoying success and financial security in Los Angeles. Could Flora's happy 20-year marriage be an illusion?