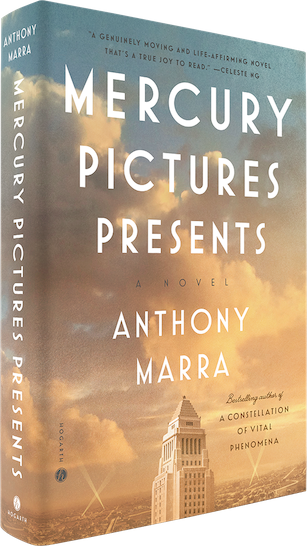 Mercury Pictures Presents
Anthony Marra
Anthony Marra, who burst onto the scene with his debut novel, A Constellation of Vital Phenomena, here taps into many of the issues confronting modern society, but through a historical lens.
It's 1941, war is raging in Europe and Artie Feldman, head of Mercury Pictures, is about to testify in the Senate's investigation into Motion Pictures War Propaganda: "It was shaping into a pivotal confrontation between campaigners for free speech and crusaders for government censorship."
Maria Lagana, Artie's second-in-command, fled Italy after Mussolini sentenced her father, once a prominent Roman attorney, "to internal exile in the Calabrian hinterlands." She and Artie share a desire to harbor Europe's refugees on Mercury's lot, putting them to work in various ways. But can Artie face the Senate and come out unscathed? Will the U.S. be drawn into Europe's war? Readers will know where events on the global stage will lead, but race to discover the unknown territory where Marra takes them.