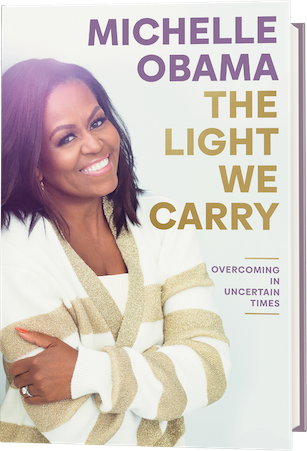 The Light We Carry: Overcoming in Uncertain Times
Michelle Obama
The former First Lady offers hopeful and hard-won words of wisdom in The Light We Carry.
Those fortunate enough to hear Michelle Obama speak for her tour of Becoming--which had sold more than 14 million copies worldwide (8 million of those in the U.S.) by the end of 2020--got to hear her sage words of advice, gleaned from personal experience as a working wife and mother.
Here she shares her successful habits and principles, honed and adapted to surmount the obstacles she has encountered on her journey, and emphasizes that as human beings we are always "becoming" the potential people we are meant to be. Among her most prized practices: "starting kind," "going high," and creating a "kitchen table" of trusted friends and mentors. She encourages readers to examine their own lives for sources of strength and joy, and to connect with others in a meaningful way.
"When we are able to recognize our own light, we become empowered to use it," writes Michelle Obama.