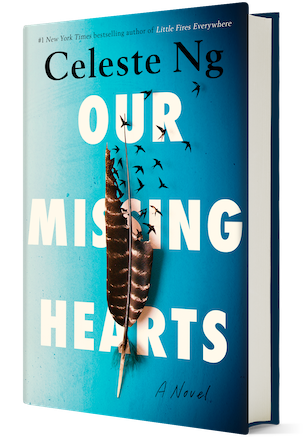 Our Missing Hearts
Celeste Ng
Celeste Ng, the author of Little Fires Everywhere, sets this prophetic novel in a dystopian U.S. in which dissent is surveilled and heavily punished.
Ever since revolutionary poet Margaret Miu went missing three years ago, her 12-year-old son, Bird Gardner, has struggled to make sense of her disappearance. His friend Sadie claims Margaret is leading a movement to fight the federal law Preserving American Culture and Traditions (PACT), created as an antidote to a period of violent civic unrest. Protest art featuring heart imagery and the phrase "our missing hearts," borrowed from a Margaret Miu poem, pops up across the nation and is just as quickly expunged. Then Bird receives an envelope containing a drawing from a folktale his mother used to tell him. Could the drawing lead him to her?
Ng's brilliantly envisioned novel asks what it means to be a good parent or a good citizen when every child is at risk--and demonstrates the power of art to challenge injustice.