Caution: Women Reading
Amid all the discussion about the state of the publishing industry, one thing is always paramount: reading. The joy of reading, access to reading. For most of us, getting a book is easy, even while the medium is debated. But Belinda Jack, in The Woman Reader (Yale University Press), points out that what we take for granted is not the way it's always been, nor is it easy still in many places.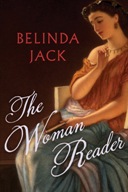 "Women's access to the written word has been a particular source of anxiety for men--and indeed some women--almost from the very beginning." Women's reading has been associated with moral corruption, even today. Women have been, and are, denied an education to prevent them from reading.
Jack traces the history of women's attempts to read (and write) from ancient poetesses to rebellious nuns to 19th-century mill girls to Afghani women under Taliban rule. In Herat, women writers set up a group called the Sewing Circles as cover for schooling women. For five years they came together to read, and most of their reading was banned foreign authors, like Shakespeare and Dostoevsky. If they had been caught, at the very least they would have been tortured and imprisoned.
Such is the power and draw of reading. As Nora Ephron wrote:
"Reading is everything. Reading makes me feel like I've accomplished something, learned something, become a better person. Reading makes me smarter.... Reading is grist. Reading is bliss."
Belinda Jack has written an engaging history of the woman reader; to say that the book is delightful is not to take away from the breadth and depth of her scholarship. It's a fine mix of erudition and broad appeal. --Marilyn Dahl, book review editor, Shelf Awareness