Pure Gold
We've been inundated with doom-and-gloom stories about the London Olympics, so a few good books might help put rain, mud and missile launchers out of mind. There are any number of books about the Olympics generally, like How to Watch the Olympics: The Essential Guide to the Rules, Statistics, Heroes, and Zeroes of Every Sport by David Goldblatt and Johnny Acton (Penguin). If you've ever wondered how wide a balance beam is (so you can try a move at home), or about the rules and strategies for fencing, this is your book.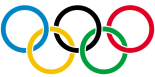 Sports Illustrated's Jack McCallum writes about the creation of the U.S. Olympic basketball team of 1992 and its path to gold in Dream Team (Ballantine). Subtitled How Michael, Magic, Larry, Charles and the Greatest Team of All Time Conquered the World and Changed the Game of Basketball Forever, it's a funny, respectful, expert, complete and literary examination of the team's permanent effects on basketball.
Fiction also competes for attention. Running the Rift by Naomi Benaron is the third Bellwether Prize winner published by Algonquin, awarded biennially by Barbara Kingsolver for an unpublished novel that addresses issues of social justice. It's a memorable coming-of-age story of Nkuba Jean Patrick, a Tutsi in Rwanda at the height of the Hutu-Tutsi conflict. Jean Patrick is a phenomenal runner, specializing in the 800-meter race. His dream is to go to the Olympics.
Our reviewer said that Gold by Chris Cleave (Simon & Schuster) "spins a tire-ripping velodrama out of two subjects underrepresented in novels: the head-games of Olympic track cycling and the heart-splitting demands faced by female athletes who try to balance motherhood and elite competition in their peak physical years."
For younger readers, sportswriter John Feinstein has come out with Rush for the Gold: Mystery at the Olympics (Knopf), another sports mystery featuring Stevie Thomas and Susan Carol Anderson. In this book, Susan Carol is an Olympic swimmer with some agents and sponsors who just might go too far to ensure her win. --Marilyn Dahl, book review editor, Shelf Awareness