Everywhere a Hobbit...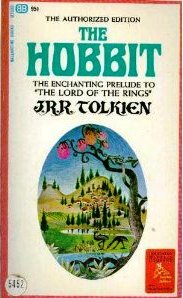 Many years ago, an uncle gave me a copy of The Hobbit, which I read with great pleasure (and still have). It's a literary rite of passage. Today, September 21, marks the 75th anniversary of the publication of The Hobbit, and tomorrow is Bilbo Baggins's birthday, traditionally celebrated by Tolkien fans as "Hobbit Day." Tolkien's publisher, Houghton Mifflin Harcourt, has sent out more than 1,000 event kits--with balloons, trivia questions, movie posters, etc.--to bookstores, teachers, homeschoolers and librarians to encourage participation; more information is at Read the Hobbit.
Corey Olsen, author of Exploring J.R.R. Tolkien's The Hobbit, will host an all-day virtual festival/live Internet radio show on the Middle-earth Network at Hobbit Day on September 22. (At the upcoming Boston Book Festival and Miami Book Fair, Olsen will be joined by Wayne Hammond and Christina Scull, authors and editors of The Art of the Hobbit, also published by Houghton.) And on the official anniversary, fans around the world are encouraged to participate in a global "Second Breakfast"--the meal especially enjoyed by Bilbo Baggins--at 11 a.m. local time.
Houghton is using social media--Facebook, Tumblr and Twitter (#Hobbit, #HobbitDay)--in coordination with Warner Brothers, TheOneRing.net and others to get word out to the existing Tolkien fan base and to create new fans. A virtual community read of The Hobbit will be held during the month of October. Discussions will be take place on Goodreads and Facebook, supplemented with quizzes, polls and essays from experts. Houghton will also host a Twitter discussion using the hashtag #ReadtheHobbit.
All this leads to the pièce de résistance: the first of Peter Jackson's three Hobbit films opens on December 14! It couldn't happen to a better furry-footed Middle Earthian, or a better book. --Marilyn Dahl, book review editor, Shelf Awareness