Serendipity
Book browsing is inherently serendipitous, even if you have a certain type of book in mind. An arresting cover or catchy blurb can lead into a nice discovery. Or, as happens so often, a few e-mail or water-cooler exchanges in the course of the workday provide the happy accident.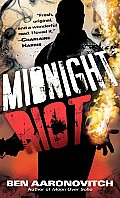 A few weeks ago, I got an e-mail from our managing editor, Robin Lenz, suggesting Ben Aaronovitch for a feature, saying, "Really funny guy, and I'm a big fan of his SF/mysteries." I'm a sucker for "funny" and "mysteries," so I asked the author if he would write an Inklings piece for us, which he did, and which I thoroughly enjoyed. That led to picking up his first book, Midnight Riot, which is, well, a riot. Probationary Constable Peter Grant wants to be a London detective but is being shunted into paper-shuffling limbo when he gets an odd break: he sees a ghost. Even better, he can speak with the ghost. Thus begins Grant's fortuitous apprenticeship with Inspector Nightingale, the Master.
It's a good story, and it's hilarious--Aaronovitch has a dry, deadpan wit. Here's a typical character description: "He was from Yorkshire or somewhere like that, and like many Northerners with issues, he'd moved to London as a cheap alternative to psychotherapy." As Grant battles evil, he comes to know the rivers and streams of London--they are gods and goddesses, and London is a city of magic, some good, some evil, some at the tipping point; he practices--sometimes badly-- basic magic and holds forth on all manner of life, like his mother, an African immigrant who takes no prisoners. Zany personalities keep pace with Peter's progress, like Dr. Abdul Haqq Walid, "world-renowned gastroenterologist, cryptopathologist and practicing Scot."
The best thing about the book? There are two more in the series (Moon over Soho and Whispers Underground) that I haven't read yet. --Marilyn Dahl, book review editor, Shelf Awareness