Happy Dot Day!
Tomorrow, September 15, is International Dot Day. More than half a million people around the globe have registered to celebrate.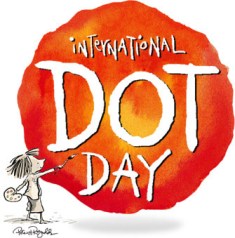 Author and artist Peter H. Reynolds kicks off the third annual Dot Day with Mayor Thomas Menino at the Boston Children's Museum. Fittingly, the celebration began with a teacher, Terry Shay of Waterloo, Iowa, and his students on September 15, 2009. It was Vashti's teacher in The Dot who set the budding artist on her path with the suggestion, "Just make a mark and see where it takes you."
Reynolds believes, like his heroine Marisol in Sky Color (reviewed below), that each of us has a powerful innate impulse to create. He admits that sometimes while sipping a cup of tea he's so inspired that rather than get water, he's used his tea as his watercolor base. That contributes to the sepia tones in what he calls his "creatrilogy": The Dot, Ish and Sky Color (all published by Candlewick).
More than 15,000 International Dot Day celebrations will take place around the world. Teachers, librarians and booksellers can download an Educator's Handbook, and children (of all ages) may visit the Dot Gallery for an array of inspirations for their paintings, drawings, collages and crafts. A Google map shows where participating registrants are located. Compare notes with them on Twitter (#dotday #makeyourmark #choose2matter) and Facebook.
Peter Reynolds lives out his creativity. In addition to writing and illustrating, he opened Blue Bunny Books and Toys in Dedham, Mass., and with his twin brother, Paul, he also founded FableVision, a media and educational software company. Follow Peter's lead and join the celebration of International Dot Day. Make your mark! --Jennifer M. Brown, children's editor, Shelf Awareness