The Deceptive Stillness of Lucille Clifton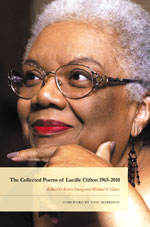 When The Collected Poems of Lucille Clifton 1965-2010 (BOA Editions) hit my desk with a thunk--it's 770 pages, including a foreword by Toni Morrison and afterword by Kevin Young--I picked it right up and lost myself in the poems, some familiar, some new. As Morrison says, "The love readers feel for Lucille Clifton--both the woman and her poetry--is constant and deeply felt."
Lucille Clifton (1936-2010) was prolific. From her eight beloved Everett Anderson picture books to her 13 poetry collections, plus one memoir and 10 more children's books, she has enriched the lives of everyone who has read her. She wrote with heart, courage, humor, rage, joy; her poetry and prose is complex beneath a deceptive stillness.
Here is a poem written on her 40th birthday, for her mother who died young:
well i have almost come to the place where you fell
tripping over a wire at the forty-fourth lap
and i have decided to keep running,
head up, body attentive, fingers
aimed like darts at first prize, so
i might not even watch out for the thin thing
grabbing towards my ankles but
i'm trying for the long one mama,
running like hell and if i fall
i fall.
And a haiku written 28 years later:
over the mountains
and under the stars it is
one hell of a ride
I wish we had space for "wishes for sons" or "An American Story" or "godspeak: out of paradise" or even Everett Anderson's Goodbye. Such a writer! --Marilyn Dahl, book review editor, Shelf Awareness